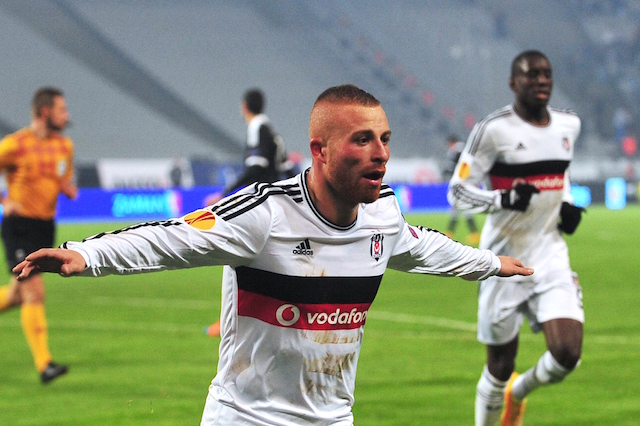 West Ham have signed Besiktas winger Gokhan Tore on a one-year loan with a future buyout clause option.
The transfer marks the first Besiktas player to follow Slaven Bilic to the Hammers after a two year stint at the club. So who exactly is Tore and what would he bring to West Ham?
1. The Slaven Bilic Connection
Tore burst onto the scene as one of the brightest talents in the Chelsea academy before following former Blues sporting director Frank Arnesen – who first spotted him – to HSV Hamburg. After an impressive start the explosive winger was struck down by a series of injuries before being sold to Rubin Kazan in Russia. Tore failed to settle in and found himself at Besiktas in 2013 on the verge of becoming one of those players that was supposed to make it but never did. Under the stewardship of Slaven Bilic, Tore got his spark back and established himself as one of the most dangerous players on and off the field – he was famously involved in an altercation with a national teammate which resulted in a gun being drawn.  The 24-year-old scored a career high eight goals and provided 11 sides in Bilic's final season in charge including impressive performances against Tottenham and Liverpool in the Europa League.
Bilic has never made any secret of his close bond with Tore. "Gökhan is a legend he is a top guy and a great player of course I would love to have him in the team," he said in an interview with the Socrates magazine.
"I tried to sign him at the start of the season but it was not the right time."
It is also worth pointing out that Tore has played under the command of Bilic for longer than any other current West Ham player. He knows what to expect from the Hammers boss and likewise Bilic already knows how to get the best out of Tore.
2. London is his second home
Tore spent his teenage years in London developing his game in the Chelsea youth academy. The Turkish international is no stranger to Premier League football and what is demanded from a top club in the top flight. The young winger would have no problem settling into life in the city having already lived in the capital and having a special relationship with Bilic. It is also worth noting that Tore is physically well suited to the Premier League. He is a fast, powerful player who understands the demands of football in England having received his footballing education at the Blues.
3. Raw Talent 
There is no denying that Tore is one of the brightest talents in Turkish football. The 24-year-old possesses explosive pace as well as great technique as well as dribbling ability and only Bilic has been able to really showcase his talent as a manager up until now. He is not the finished article just yet and there are aspects of his game he could improve such as his crossing and simplifying his game. Tore can overcomplicate with fancy skills where they are simply not necessary at times but it is nothing Bilic can't get him to develop.