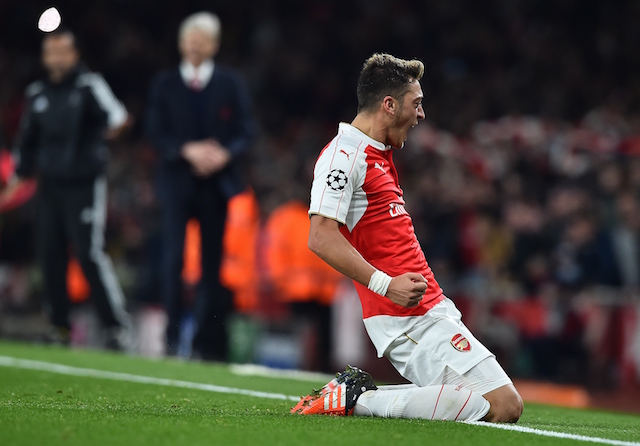 Arsenal kept their title hopes alive with a 4-0 victory over Watford at the Emirates to temporarily close the gap with league leaders Leicester City to eight points.
Mesut Ozil started for the Gunners but did not find the back of the net but more surprisingly despite four goals being cored he did not provide an assist. Here are three things we learned following his performance.
1. Keeps Creating
Ozil may not have provided an assist but he did create three chances – only Alexis Sanchez created more – and he was involved in the buildup for the fourth and final goal with this beautiful long range pass. The World Cup winner has now created 119 chances this season – more than any other player in the league.
https://twitter.com/SBycampbell/status/716293449020866560
2. Inflating pass accuracy? 
Ozil is undoubtedly one of the most talented passers in the Arsenal side and had a 92 percent accuracy against Watford – making 110 passes – but he was accused of inflating his numbers with passing combinations like this. On the other hand you could argue that he was just doing a bit of showboating.
This is why Ozil's pass accuracy is so high… pic.twitter.com/1xoGJKVczx

— West Ham Central (@WestHam_Central) April 2, 2016
3. Most fouled player 
Ozil's cheeky passes and skills did not go down well with Watford fans who accused the Arsenal star of showboating. That probably explains why he was the most fouled player in the team being brought down three times. The playmaker also had more time on the ball than most of his teammates on the ball with his 126 touches making him more of a target. The Gunners have to be careful to protect Ozil who only just recovered from an ankle injury.
Ozil comes to take a corner, gets booed by Watford fans, cheered by Arsenal fans and kisses the badge. What a guy. pic.twitter.com/huKnd7wdq8

— Read Arsenal (@ReadArsenalFC) April 3, 2016
#footballtweet ridiculous that the Watford players are telling off Ozil for showing too much skill. Did we time machine back to 1967?

— JamesVincentMcMorrow (@jamesvmcmorrow) April 2, 2016
Watford players telling Ozil to stop showboating?

I just don't think they understand..

— Old Bald Gooner (@OldBaldGooner) April 2, 2016
See More
Arsenal star Mesut Ozil joins Liverpool's Emre Can to celebrate victory
Fans react to Arsenal star Mesut Ozil's role in Germany's 4-1 win