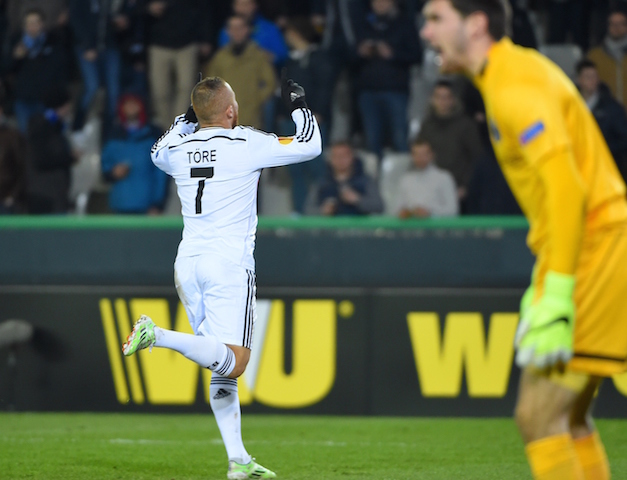 West Ham have completed the transfer of Gokhan Tore from Besiktas on a one-sesaon loan.
Here are 5 facts you need to know about Tore.
Slaven Bilic connection
Under the management of Slaven Bilic, Gokhan Tore finally started living up to his reputation as one of the brightest talents in Turkish football. Tore and Bilic clicked from the get go. The 24-year-old scored his first league goal under the stewardship of the current West Ham boss and established himself as one of the most sought after players in the league. Tore scored a career high eight goals and provided 11 sides in Bilic's final season in charge including impressive performances against Tottenham and Liverpool in the Europa League. Bilic was like a father figure to Tore and one of the few managers who has been able to get the best out of his talent while controlling his wild side.
Tore has played under Bilic for longer than any other current Hammers player which makes the move less risky. Bilic already knows how to get the best out of Tore and exactly where to deploy him in his current side.
Tough upbringing
Tore was given up for adoption shortly after his birth in Koln, Germany. His grandparents were however, able to win back custody when he was two and it was his grandfather Sabri who introduced him to football. Tore grew up in a rough part of town but his grandfather made sure he focused on football, taking him to training every week until he passed away aged 14. His final wish was for Tore to play for the Turkish national team and just a year later he broke into the setup makings debut on August 10 2011.
Tore soon established himself as one of the most dangerous players on and off the field. His now notorious  altercation with international teammate Omer Toprak and Hakan Calhanoglu which resulted in a gun being drawn cast a shadow over him. Then in 2014 a stray bullet hit him in the shoulder after a fight broke out at a nightclub. Luckily he was not severely injured and this time he just happened to be at the wrong place at the wrong time.
It is worth noting that Tore did really start to knuckle down under the command of Bilic and was only sent off once in three seasons for the Black Eagles. Tore is by no means an angel but he is often misunderstood. The explosive winger has come a long way since his days in the streets of Koln and did mature under the current Hammers boss.
Premier League Experience
The Turkish international is no stranger to London. Tore first made a name for himself at Chelsea after being signed by former Blues sporting director Frank Arnesen. One of Arnesen's first moves when he moved to HSV was taking Tore with him. After a brief stint in Russia he moved to Besiktas were he rebuilt his career. And now he has completed a full circle returning to London were it all began for him. Tore will have been schooled in Premier League football from a young age and he is physically well suited for football in England.
The way of the Sky Lord
Turkish names often have rather interesting meanings when translated to English and Gokhan Tore is no different. Gökhan means Sky Lord while Töre means rules/customs/ritual/way of doing things.
Töre-ing
Tore set off a social media craze last season with his goal celebration which simply became known as Töre-ing. The celebration involves covering ones face with your hand. The 24-year-old revealed the reason behind his celebration shortly after. Tore stated that it was a game his grandmother played with him as a child.
Sevdamız Kitap Olsun Okullarda Derslere 😄 #Töreing @Gokhan_Tore7 @bjkigdir @MuhammetSonmez pic.twitter.com/tDWMYxeDRX

— BerkeOnol (@BerkeOnol) December 15, 2015
Günaydın Lider takımın Lider Taraftarları 😂🏁🏁 @Besiktas10line #töreing pic.twitter.com/FJxlKVbdQB

— Cennet Kara (@CennetBjk) December 15, 2015
You guys don't forget to do "Töreing" thing after he scores 😉 @WestHam_Central @westhamtransfer @WHUFC_News pic.twitter.com/jLtrnw3mjK

— Besiktas Chat (@BesiktasChat) July 8, 2016