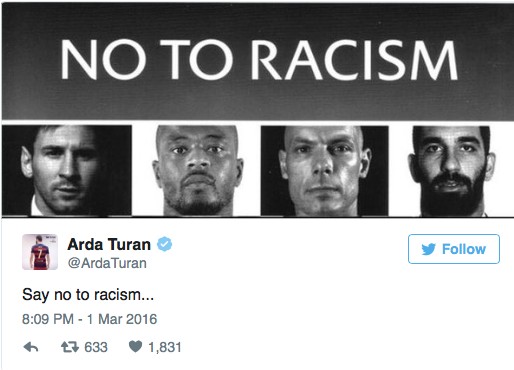 Barcelona star Lionel Messi and his teammate Arda Turan have both featured on the UEFA 'No To Racism' campaign 2016.
Turan shared the poster for the campaign on his official Twitter account along with the message: "Say no to racism…"
The bearded winger is one of the most high profile Turkish international players in world football today and enjoys cult status in Turkey.
France international Patrick Evra and former referee Howard Webb also feature in the campaign shared on Turan's Twitter.
Say no to racism… pic.twitter.com/VWW3IEjjUu

— Arda Turan (@ArdaTuran) March 1, 2016
The campaign aims to reduce racism in football and UEFA have actively promoted the campaign over recent years.
The European footballing body uses the campaign to combat racism in the sport and makes use of some of the greatest stars in world football to get the message across.
UEFA have fined and even issued supporter bans to clubs that have been involved in racist incidents in the past.
Turan features as one of the faces on the 'No To Racism' poster for the first time but his teammate Lionel Messi was also included in last years edition.
See More
Barcelona win 12th consecutive game Arda Turan has featured in
5 little-known facts about Barcelona star Arda Turan