Arda Turan has revealed that he gave his Barcelona shirt to Turkish comedian and actor Cem Yilmaz after scoring his first goal against Rayo Vallecano.
Turan started in Barca's 5-1 victory over Rayo scoring the fifth and final goal as a result of a flying header.
Yilmaz came to watch Turan and was in the stands when he broke his duck.
Turan told Sport: "The shirt I scored my first Barcelona goal with went to Cem Yilmaz, who is like a brother to me and came to visit."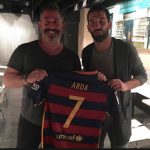 Barcelona have won all 14 games – including 10 league matches – in which Turan has featured for Barcelona this season since making his debut in the Spanish Cup in January.
Turan will break the record for most consecutive league victories for a new transfer currently held by Alex Song (12) if he win three more La Liga games.
The Turkish international star is currently on a short break in Turkey attending business at his new Istanbul eatery called Arsiv.
Turan has opened an 'Esnaf Lokantası' which is the Turkish equivalent of a workman's cafe in a trendy setting underneath the Clarion hotel in Şişli, Istanbul which will have a 150 seat capacity.
Esnaf Lokanata restaurants are traditionally very popular in Istanbul in working class areas and serve local tradesmen so it remains to be seen how Turan will be able to create an authentic experience in such a trendy location but it appears to be going down a treat among the locals.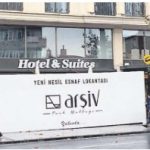 See More
5 things we learned about Arda Turan following Barcelona win over Eibar
Is Mesut Ozil finally showing his true colours at Arsenal?