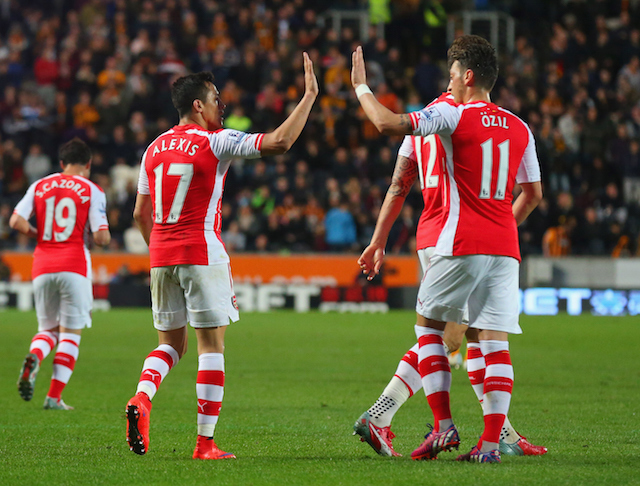 Arsenal got their title challenge back on track with a 2-0 win over Everton that closed the gap with league leaders Leicester City to eight points.
Leicester beat Crystal Palace in the 15:00 game to extend their lead at the top of the table to 11 points again but the Foxes have played an additional game.
Mesut Ozil started for the north London based club so we decided to take a look into how social media reacted to his performance.
Ozil was widely praised for his performance with one tweeter even claiming that nobody int he entire Premier League even comes close to the quality of the Arsenal star.
https://twitter.com/CameronBegbie/status/711265784354500610
Ozil ripping apart Everton's defense like a person who's really good at something confronted with a very simple task.

— Mike L. Goodman (@TheM_L_G) March 19, 2016
Ozil did not provide an assist but he was involved in the buildup to the Danny Welbeck goal and did extend his chances created tally to 116 – the highest in the league.
Despite creating the most chances in the league Arsenal have actually scored the fewest goals in the top four.
One tweeter did a bit of brainstorming and wondered how many goals Arsenal would have with a striker like Zlatan Ibrahimovic.
@ffsRooney Imagine how many assists Ozil would get with Ibra??? And same, would love to see him in the prem.

— Chris (@Gooner_DB) March 19, 2016
https://twitter.com/SemperIiber/status/711199871953403904
There were fears that Ozil picked up an injury after the game which resulted in a frenzied state of panic.
If Ozil is injured this season is finished.

— Sam (@omfgsam) March 19, 2016
Some were rather cynical claiming instead that Ozil faked his injury to avoid the international break friendly games and come back well rested for the Gunners title race campaign.
Ozil faking an injury so he gets to rest during the international break and come back firing. Unreal mentality.

— Oz (@Gooner_Oz) March 19, 2016
https://twitter.com/SemperIiber/status/711195049770541056