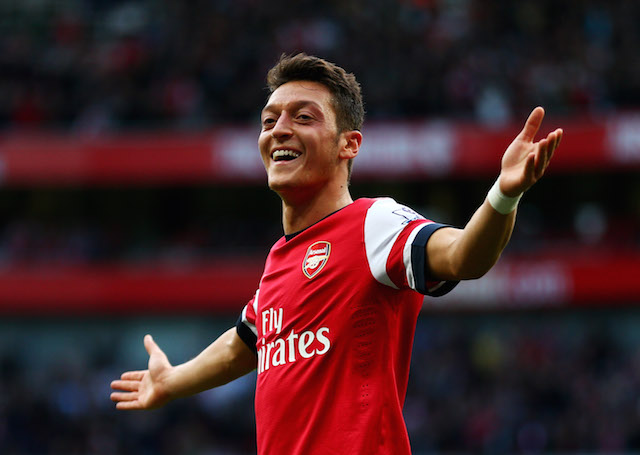 Arsenal beat Ludogorets 3-2 in Bulgaria thanks to a last gasp goal from Mesut Ozil to book a place in the next round of the Champions League.
The home side actually took a two goal lead and it was Ozil who provided Granit Xhaka with the assist which got Arsenal back in the game.
Ozil saved the best until last with an incredible individual effort to win the game and pull off a memorable comeback.
We took a look at how Arsenal fans reacted to Ozil's display on social media.
A hat-trick against Ludogorets at the Emirates and a last minute winner on the road… Ozil seems to have it in for the Bulgarian giants.
Have you seen this man?

Mesut Ozil:
Wanted for assault and battery.

Last seen assaulting three men in Bulgaria. pic.twitter.com/HKot07U1hV

— Joe Crann (@YesWeCrann) November 1, 2016
Ozil seems to have a thing against Ludogorets…
Mesut Ozil tonight:

– 200th Assists in his career
– Scores A Winnerpic.twitter.com/1aVQulGUkb

— Footy Jokes (@Footy_Jokes) November 1, 2016
It was indeed.
Oh my Lord Jesus Christ Mesut Ozil that was beautiful

— #BWIGM (@JamzLdn) November 1, 2016
This is what Ozil will do to a man.
I think I love Mesut Ozil more than I love my own family….. #coyg

— Will (@WillHill221) November 1, 2016
The sublime goal almost shadowed the fact that Ozil provided his 200th career assist tonight.
Mesut ozil reach 200th assist of his career #BOOM. pic.twitter.com/vzZIZL4Bm2

— #LiveYourDream (@AdefemiHisiak) November 1, 2016
Poor Ludogorets!
Ludogrets when they hear the name mesut ozil pic.twitter.com/l0Z7wv1oiz

— Orelius (@Thelou__) November 1, 2016
Pizza time!
Mesut ozil kill the show tonight by sending those three defender to buy him pizza 😂😂😂

— #LiveYourDream (@AdefemiHisiak) November 1, 2016
Ozil destroyed the Ludogorets defence!
The two Ludo defenders almost killed each other. Scene straight from a very nasty accident!! Lol Mesut Ozil, what a wonder he is.

— Baba Adrian® (@Ondieqi) November 1, 2016
what do you think?
Mesut Ozil = Best Midfield in the world.

— Jay Parker (@Jay_parker25) November 1, 2016
How can you hate Ozil?
If you hate Mesut Ozil,that's your problem. It is you that's carrying heavy load inside your chest.

— Folarin click media (@Folarinfotos) November 1, 2016
Anyone care to disagree?
Mesut Ozil > Everything else

— Cristian Nyari (@Cnyari) November 1, 2016