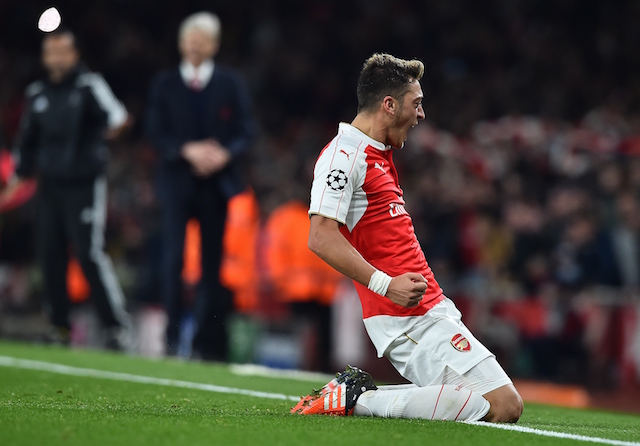 Germany beat Northern Ireland 1-0 in their final Euro 2016 Group C game to book a place in the next round.
Mesut Ozil started for Germany and put on a brilliant display for the national team but was unable to add to his assist tally.
We took a look at how Arsenal fans responded to Ozil's display on social media.
Fair to say Ozil gave a pretty outstanding performance. The Germany international of Turkish origin did not provide an assist but he did complete 98 percent of his passes and create six goal scoring opportunities.
https://twitter.com/theEpicGooner/status/745361408129282048
The Arsenal playmaker was easily the most impressible player on the field and played arguably his finest game in the tournament so far.
This pretty much sums up what Gunners supporters made of his display.
If Mesut Ozil lost his skills, eye for a pass, footballing brain, dribbling, and passion he'd still be the best CAM in the world

— sam (@IwobiFlick) June 21, 2016
On another day Ozil would probably have racked up a cricket score in terms of assists and even found the back of the net himself.
That pass from Mesut Ozil was ridiculous, deserved a goal. #NIRGER

— Jack Lusby (@jacklusby_) June 21, 2016
Ozil regularly gets stick from sections of the press – not all deserving – which did not go down well with fans at all.
98% pass completion rate for Mesut Ozil, Germany's MOM for most.
Yet @BBCSport said he "wasn't doing enough".

— wholelottaloew (@wholelottaloew) June 21, 2016
Ozil was widely praised across social media.
Standard Germany Performance… Mesut Ozil man of the match…so lucky to have Ozil world class

— Ladygooner@11 (@ashly_dora) June 21, 2016
Ozil was even rated as the best player in the world.
Mesut Ozil the best player on the pitch by a country mile.

— Shaikh Sahab (@FCA90) June 21, 2016
https://twitter.com/ArsenaIDan/status/745308445348364288
Some even claimed Ozil was carrying Germany.
Mesut Ozil is carrying the best international team

— Nitish (@nitish_potato) June 21, 2016
Ozil is sometimes accused as being lazy defensively but that was not the case yesterday.
https://twitter.com/Memz_Dogi/status/745303880670547968