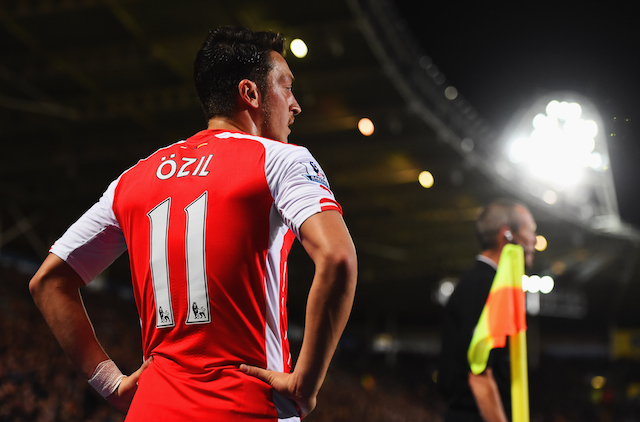 Arsenal were held to a 2-2 draw against Tottenham at White Hart Lane in the north London derby.
The Gunners managed to battle back from a goal and a man down to force a 2-2 draw but Mesut Ozil did not score or add to his 18 assists.
Despite having created the most chances this season (115) Ozil did not create a single chance for his side against Spurs.
We took a look at what kind of reaction Ozil's performance got from Arsenal fans on social media.
A lot was expected from the Gunners stars Ozil and Alexis Sanchez going into the derby.
Although we are really in this, we really need Sanchez and Ozil to provide that magic touch.

— The Gooner Talk (@TheGoonerTalkTv) March 5, 2016
Sanchez did get his name on the scoresheet but Ozil was widely criticised for not having much of an impact on the game.
In fact the World Cup winner has come under fire for his performances in big games for the Gunners despite scoring against Bayern Munich and Manchester United this season.
Mesut Ozil at White Hart Lane in a UN-style role today. Observe. Stay close to the action. Do not under any circumstances intervene

— Barney Ronay (@barneyronay) March 5, 2016
As you can see Ozil was pretty much slaughtered on social media.
Explain Ozil's performance to me. Tottenham were basically playing against 9 men because Ozil was definitely not playing

— CHAMPIONS OF CHINA (@whatgap) March 5, 2016
There were however, a few voices coming out in support of Ozil highlighting that Spurs strategy was set around preventing the Arsenal star getting hold of the ball.
Ozil didn't go missing in this game but it was clear that Tottenham's primary purpose in life was cutting him out of our build up and attack

— Doug Nichols (@TheTXI) March 5, 2016
Ozil is renowned for his bromance with Flamini but Danny Welbeck could end up being his new 'BFF' if he keeps this up.
I want someone to care about me the way Wellback cares about Ozil https://t.co/P4jqK06UiT

— Flexoween (@Flexo777) March 5, 2016
And finally the only real debate that matters rages on.
Sorry but Payet > Ozil isn't even a stupid opinion anymore.

— West Ham Central (@WestHam_Central) March 5, 2016
See More
West Ham star Dimitri Payet edges out Arsenal's Mesut Ozil to win London Player of the Year
Arsenal boss wants Mesut Ozil to score goals like Thierry Henry