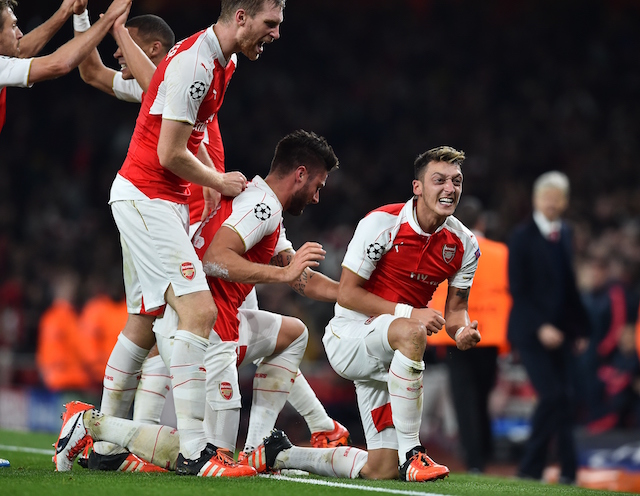 Mesut Ozil played a key role in Arsenal's comfortable 2-0 victory over FC Basel in the UEFA Champions League yesterday evening.
The Germany international was once again unable to record his first assist of the season but was instrumental in dictating the tempo of the game.
Following the final whistle we took to social media to see how Ozil's performance went down with fans. It's safe to say the 'Gooners' were more than satisfied with the 27-year-old's role in Arsenal's win.
2-0 to the Arsenal! Mesut Ozil could assist my murder and I'd die happy #Ozil

— Subeer Absie (@S_Absie11) September 28, 2016
1. Mesut Ozil is a genius and you really have to watch him carefully to really understand how good he actually is.

— Shivesh Ramchandani (@Shiveshrr) September 29, 2016
Great ball in from Mesut Ozil, almost connect Alexis Sanchez.

— Olatunji AFC (@teejay4u_06) September 28, 2016
World Class. Mesut Özil. #afc pic.twitter.com/nuOdUXkeBc

— ㅤ (@TouchlineBling) September 28, 2016
Mesut ozil would find space inside @missgemcollins single bed and still pick a pass !! Özil is one of the greats simples

— Dominic Friel (@DominicFriel) September 29, 2016
The only class player from arsenal I salute you only Mr Ozil@MesutOzil1088

— Arif (@arifafini) September 28, 2016
@grega93 yep Theo was brilliant, Ozil was too, Xhaka was class, kostafi class bellerin had a great game overall great minus missed chances

— Arsenal MIA Podcast (@305Cast) September 28, 2016
This #Arsenal side is brimming with confidence. Theo is on fire 🔥 iowbi is settling in Sanchez / ozil showing class & defenders are bossing👌

— Farooq Ibrahim (@farooq_ibrahim) September 28, 2016
The Gunners have moved up to second place in Group A following the victory last night.
Ozil racked up an impressive 19 assists for Arsenal in the Premier League last season. The former Real Madrid man was just one assist of matching the league record set by Thierry Henry.
Arsenal take on Burnley FC this weekend in the Premier League as they look to continue their run of four consecutive wins.
Ozil is once again expected to start behind striker Alexis Sanchez on Sunday.