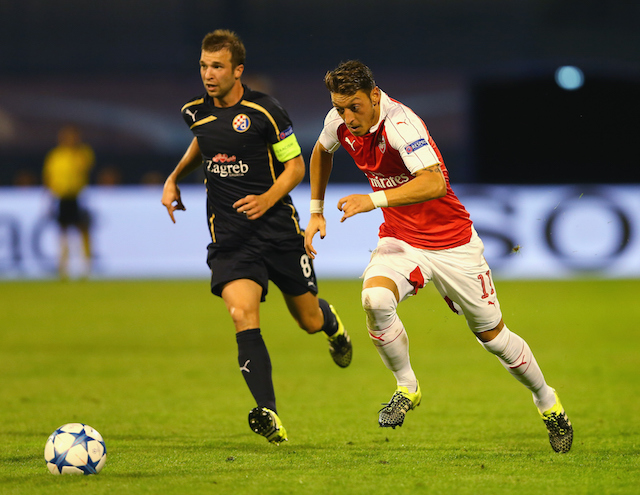 Germany beat Slovakia 3-0 in the Euro 2016 Last 16 clash today and yet against Mesut Ozil hit the headlines – although not entirely for the right reasons this time around.
We took a look at how fans reacted to Ozil's performance – and penalty miss – on social media.
Here is the missed penalty everyone was talking about.
PENALTY TO #GER … SAVED! Mesut Ozil denied, still 1-0 to Germany https://t.co/bYHepFhbeD

— ITV Football (@itvfootball) June 26, 2016
Two Arsenal players missed penalties in the Euro 2016 Last 16… not exactly promising signs going into next season.
Arsenal players proving NOBODY takes worse penalties than we do. #ozil #xhaka

— Piers Morgan (@piersmorgan) June 26, 2016
Ozil may be arguably the best playmaker in the world but his penalty record leaves a lot to be desired.
Mesut Ozil has missed 3 of his 4 last penalties for club and country.

Why is he taking them? #GER pic.twitter.com/EFN90KTYr2

— Unibet (@unibet) June 26, 2016
Can't really disagree with that.
Ozil's role is to assist not to take penalties.

— Danny Welbeck (@WelBeast) June 26, 2016
Pretty much sums things up.
No idea why Ozil is taking penalties for a team with Kroos, Muller in it. He's a fantastic player, and a bad PK taker.

— ⚽️ is a Country (@FutbolsaCountry) June 26, 2016
There is always one!
Ozil to Xhaka: "Anything you can do, I can do better"

— Priya Ramesh (@Priya8Ramesh) June 26, 2016
To be fair Ozil was not that bad… we didn't think so anyway and neither do the stats. The Germany international of Turkish origin created the most goals scoring chances (5) and would have added to his assist tally on a another day (which currently stands at 1).
https://twitter.com/Walter_Tactics/status/747121425354530816
Harsh!
When Ozil steals your gloves pic.twitter.com/qrXvVlRVKB

— Kye (@kyesmh) June 26, 2016
Shots fired!
https://twitter.com/Goalteke/status/747108453915623425
Low blow from Lord Sugar.
Ozil having a bad game misses a pen and just missed an easy one. Arsenal player . @piersmorgan

— Lord Sugar (@Lord_Sugar) June 26, 2016
There were however, still fans backing Ozil.
Ozil is better than any midfielder at the club you support.

— Sam (@omfgsam) June 26, 2016