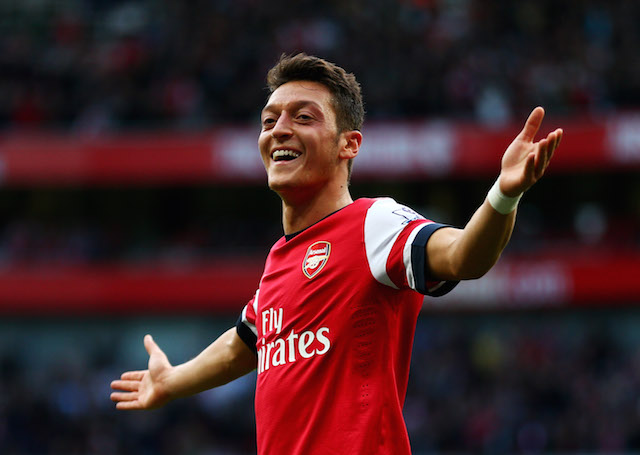 Arsenal beat Leicester City 5-2 at the King Powell stadium in the Premier League yesterday.
The north London based club secured their forth win of the season which takes them within three points of leaders Manchester United.
The home side did actually take the lead on 13 minutes when Jamie Vardy found the back of the net however, Arsenal hit back with two goals before the break and Özil provided the assist for his sides third goal on 57 minutes.
Alexis Sanchez and Olivier Giroud scored Arsenal's two other goals while Jamie Vardy a brace late on for the Foxes.
We took to social media to take a look at Arsenal fans response to Özil's impressive performance and there were more than a few creative interpretations of his game.
Özil was compared to everything from a work of art to footballing porn and a magician. The 'Wizard of Öz' did a great job winning over the home faithful as you can see below.
If Özil was a painting he'd be Van Gogh wrapped up in Da Vinci with a splash of Pablo Picasso & Rembrandt. A true masterpiece

— Ghoochannejhad (@_C_hacha) September 26, 2015
https://twitter.com/FootyHipstar/status/647910215392870401
Leicester respect good team, when put up againt the likes of Sanchez, Carzola, Bellarin n ofcourse the genius MESUT OZIL they had to crumble

— Jony_Woka (@Jony_Woka) September 26, 2015
That Mesut Ozil ball for Alexis Sanchez's 2nd goal… 😍😍😍😍

— Couttsy20 (@Couttsy20) September 26, 2015
https://twitter.com/Taylor_Liam93/status/647903970262941696
Mesut Ozil vs. Leicester :
Pass Accuracy : 91%
Chances Created : 5
Shots : 3
Assist : 1#ThereWillBeHaters pic.twitter.com/VtcYRzGd7B

— ÐÖИNΛ♥ΞΛÐ (@DonnaOzil) September 26, 2015