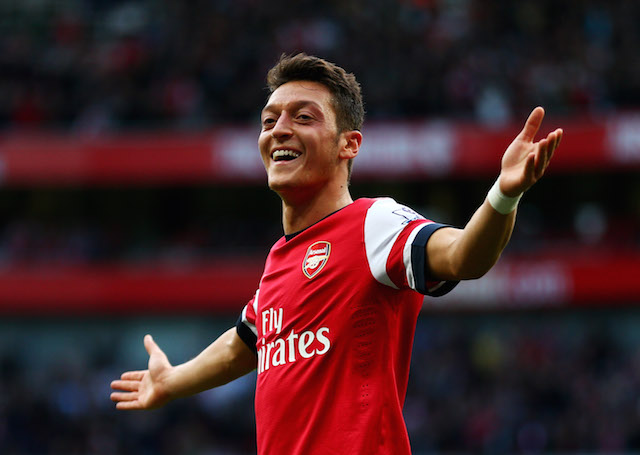 Arsenal beat Premier League rivals Manchester United 3-0 yesterday to move into second place in the league standings.
The Gunners put on an outstanding team performance but Mesut Özil in particular had a lot to prove.
The World Cup winner had been ripped to shreds by sections of the press the following week following the UEFA Champions League 3-2 loss at the Emirates against Greek giants Olympiakos.
Former United midfielder Johnny Giles claimed that Arsene Wenger should drop Özil from the team and Harry Redknapp described him as being 'pathetic'.
Özil responded to his critics by settling up Alexis Sanchez with the opening goal on 6 minutes and then scoring himself just a minute later.
Video: Mesut Özil vs. Manchester United (H). [@AlexisAssist] #afc pic.twitter.com/Jif74lXUPv

— afcstuff (@afcstuff) October 4, 2015
The 26-year-old increased his tally to one goal and three assists for his club this season and has created the highest number of chances in the league (31).
We took a look at social media to gauge the reaction of Arsenal fans to Özil's performance.
The Özil haters were understandably the target of quite a few tweeters.
If you think Coutinho or Eriksen or Mata is better than Ozil then you're an idiot.

— Arsenal News (@__arsenalnews_) October 4, 2015
Mesut Ozil proving his haters wrong every game.

— Arsenal News (@__arsenalnews_) October 4, 2015
Arsenal fans searching for the haters as Ozil actually turns up in a big match v Man United: http://t.co/KNuxY5ETth pic.twitter.com/qXsktt3nPP

— Metro Sport (@Metro_Sport) October 4, 2015
Then there were those who slated Manchester United's defending and celebrated Özil's performance.
Mesut Ozil looking at Man United's defence like.. pic.twitter.com/TvxV2egyhJ

— Not Match of the Day (@NOT_MOTD) October 4, 2015
So it Wasn't Just Us Who Saw Mesut Ozil Pluck This Out of the Sky Today? https://t.co/ZiK8qHCuXj

— talkingbaws (@talkingbaws) October 4, 2015
https://twitter.com/Memz_Dogi/status/650708399521419266
Imagine being a Man Utd fan who doesn't rate Ozil and watching him destroy your team today 😂😂

— Mark (@_The12thMan) October 4, 2015