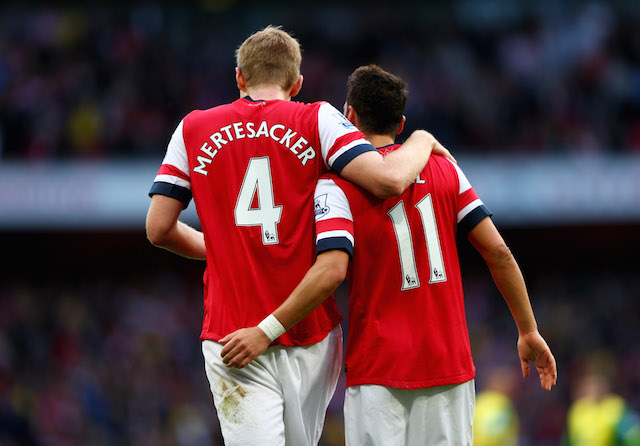 Arsenal suffered another blow to their title race after being held to a goalless draw against Southampton at the Emirates yesterday.
The draw saw the Gunners fall five point behind Premier League leaders Leicester City who increased their lead at the top of the table after beating Liverpool 2-0 at home.
Mesut Özil went into the game with the highest assist rate in the league having already setup 16 goals but was unable to add to his tally against the Saints. The World Cup winner did however, create 10 chances all of which were squandered.
We took a look at how Özil's performance went down with the Twitter community.
Özil's magnificent first touch inside the opening 15 minutes went down a storm.
So close for Ozil pic.twitter.com/jfxZYqcBMG

— Sydney Greenstreet (@1gunnerfan) February 2, 2016
Mesut Ozil just produced a touch on the ball that should probably be pixelated out on Match of the Day in the name of decency

— Barney Ronay (@barneyronay) February 2, 2016
The 27-year-old created 10 chances over the course of the 90 minutes more than any other side in any single game in the Premier League this season however, they were all squandered which did not go down well with the fans.
Mesut Ozil created 10 chances tonight. TEN.

Got to win those sort of games.

— Renato (@th14Renato) February 2, 2016
That Mesut Ozil control 👌🔥

— Arsenal News (@__arsenalnews_) February 2, 2016
Imagine being Mesut Ozil. Imagine creating 10 chances and seeing them all wasted. 10 COTTON-PICKING CHANCES. These lot don't deserve him.

— tj (@ToomJonesey) February 2, 2016
Then there was the argument made that Özil is currently under a curse.
Ever since Arsenal have brought out their 'Mesut Ozil song' which they copied off West Ham he hasn't scored or assisted. Brilliant.

— L U K E ⚒ (@LukeyMalden) February 2, 2016
In case you missed the song.
'We've got Ozil. Mesut Ozil. I just don't think you understand. He's Arsene Wenger's man. He's better than Zidane!' pic.twitter.com/xJGjLEx2GV

— Arsenal FC (@Arsenal) January 24, 2016