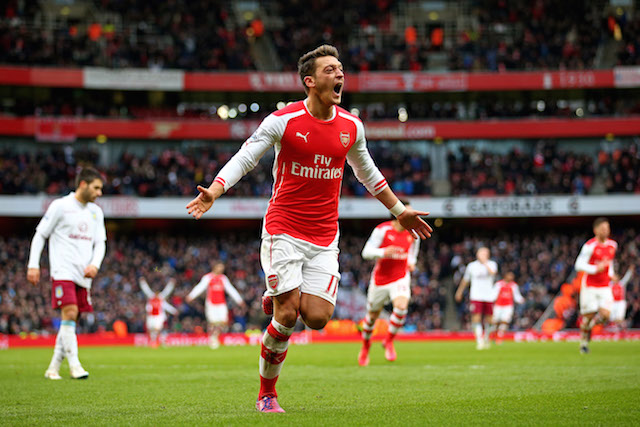 Arsenal star Mesut Özil found the back of the net for the Gunners second goal in their 2-0 victory over Bayern Munich in the UEFA Champions League earlier tonight.
The Germany international scored late in the second half to secure all three points for the Gunners. Olivier Giroud scored Arsene Wenger's sides opening goal on the night.
Arsenal had gotten off to a slow start in the Champions League after suffering two defeats in their opening two games against Olympiakos and Dinamo Zagreb.
The victory against the Germany giants re-ignited the North London based sides qualification hopes as they move up into third place. Arsenal take on Bayern Munich in Germany in the next round of games.
Following the game we took a look at the Arsenal fans reaction on social media to the Özil's performance against Bayern Munich and were in for some intriguing responses.
Bleacher Report shared an interesting rendition of a clip form one of South Africa music group Die Antwoord's music videos.
2-0 Arsenal! Mesut Ozil, game over! (Vine via @vonstrenginho)https://t.co/OrUp5sDJee

— B/R Football (@brfootball) October 20, 2015
Most fans were obviously delighted with Özil scoring in yet another big game.
Who needs goal line technology when you got the vision of Mesut Ozil

— Ëd (@edduhfab) October 20, 2015
Mesut Özil pic.twitter.com/eDiBExeqlX

— Arsenal Pictures (@ArsenalPicture4) October 20, 2015
Mesut Ozil gets the goal ! #ChampionsLeague #Arsenal

— Turkishsoccer.com (@turkishsoccer) October 20, 2015
Arsene Wenger outclassed Pep Guardiola.

Arsenal outclassed Bayern.

And Mesut Ozil scored.

— Danny Welbeck (@WelBeast) October 20, 2015
https://twitter.com/TurkzZ/status/656570229020082181
https://twitter.com/yusufredwan/status/656578648267427840
Mesut Ozil. Class. Amazing. Brilliant. Gunner. @MesutOzil1088

— RL (@futbolking5) October 20, 2015
There were also a number of fans quick to hit back at the World Cup winners critics.
Mesut Ozil shutting up his critics once again. Great to see

— junaid (@Junaid7_AFC) October 20, 2015
Mesut Ozil has finally decided to show up for the big games. So glad, was always a big fan of him.

— Rilwan (@Rilwan_AM) October 20, 2015