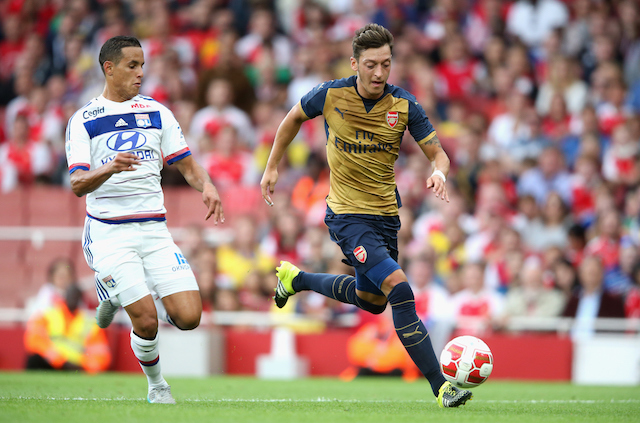 Arsenal recorded an impressive 6-0 win over Lyon yesterday afternoon with goals coming from Giroud, Oxlade Chamberlain, Iwobi, Aaron Ramsey, Santi Cazorla and Mesut Ozil.
Ozil set up Olivier Giroud's opener via a well placed free-kick. The World Cup winner also set up Aaron Ramsey goal towards the end of the half which ended in a 4-0 scoreline.
The 26-year-old went on to score a well placed half volley to put his side 5-0 up to wrap up an impressive performance.
Ozil took to Instagram after the game to post a picture of himself along with the caption, "Giving all Gunners at the @Emirates stadium a warm welcome after summer break: ✔️ #YaGunnersYa #GunnersOnFire #EmiratesCup2015 #AFCvLYON 6:0."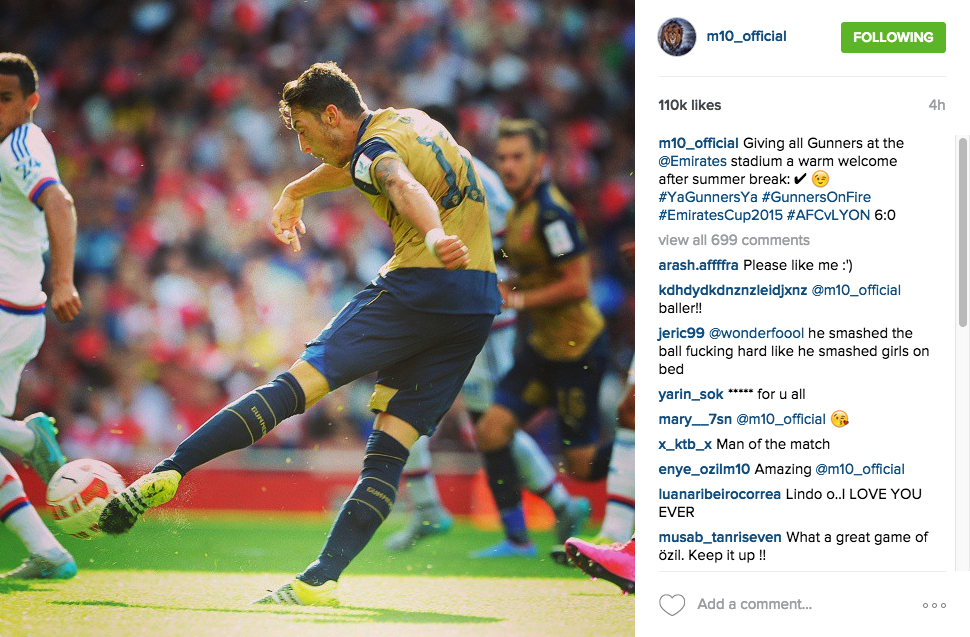 Arsenal take on the Bundesliga giants Wolfsburg in the second round of games in the pre-season cup today.
The Gunners finished last seasons Emirates Cup as runners-up losing out to Spanish giants Valencia. The Gunners have won the cup a total of three times since it was first setup in 2007.
Following the final whistle we took to Twitter to see how Ozil's latest performance went down on social media. Read a selection of what we found below:
To top off his spectacular performance today, Mesut Özil gets on the scoresheet. Do hope he keeps this level throughout the season, a joy.

— Liam Canning (@LiamPaulCanning) July 25, 2015
Mesut Ozil proves he's about to have best Arsenal season yet with dazzling Emirates Cup display http://t.co/IprATIJAqN

— Arsenal News (@ArsenalNewsUK) July 26, 2015
on Mesut Ozil…
He missed the whole first part of the season last year and he came back to his best level in the second part of the season.

— ArsenalRelated (@ArsenaIReIated) July 26, 2015
Congratulations to Mesut Özil, Arsenal's man of the match against Lyon! pic.twitter.com/499njMKraT

— anIS khIAri (@aniskhiari1) July 26, 2015
Mesut Ozil was named man of the match after an absolutely fantastic performance against Lyon. What a player!

— Arsenal News (@__arsenalnews_) July 26, 2015
Arsenal legend Ian Wright focused on the assisting qualities of Ozil and Turkish-football.com even got in on the act.
He just can't stop feeding ! 😂😂😂. Great performance boys. pic.twitter.com/4DoX2rLsbz

— Ian Wright (@IanWright0) July 25, 2015
https://twitter.com/Turkish_Futbol/status/624972793868849152