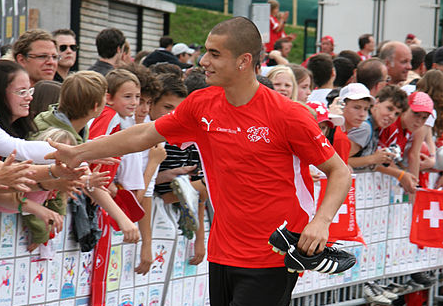 Arsenal star Mesut Özil also represents Turkey  [divider]
Switzerland international Eren Derdiyok believes that players of Turkish origin representing international teams across Europe gives Turks and Turkey a positive image abroad.
See More:
Arsenal News
Kasimpasa News
Ozil expected to make first Arsenal start of 2015 against Brighton
Derdiyok told Turkish newspaper HaberTurk: "In my opinion Turkish players representing other countries at an international level are also representing Turkey.
"If we are successful we change negative perceptions people may have had about Turks and we are able to create a positive image and be a good role model. For example if a Turkish engineer or lawyer is working in Europe they are giving Turkey a good name, what is do is similar. 
"Gökhan İnler is captain of Switzerland, look at the success Mesut Özil and İlkay have had, this all works in favour of Turkey, Turks are better off as a result."
Derdiyok was born in Switzerland to Turkish parents and is eligible to play as a domestic player in Turkey.
The Swiss international joined Süper Lig outfit Kasımpaşa on a £2.2 million move from Hoffenheim this summer.
The 26-year-old striker has yet to make an appearance for the Istanbul based team due to suffering an injury at the start of the season.
Arsenal star Mesut Özil was born in Germany but is of Turkish origin like Derdiyok.
Özil became the first player of Turkish origin to win the World Cup with Germany in the summer.
The 26-year-old playmaker is part of the of the large – estimates vary from 2.5 to 3.5 million – Turkish community that forms the largest ethnic minority in Germany.
Many are descendants of the guest workers who arrived when large-scale migration of Turkish citizens to West Germany was encouraged during the 1960s and 1970s.