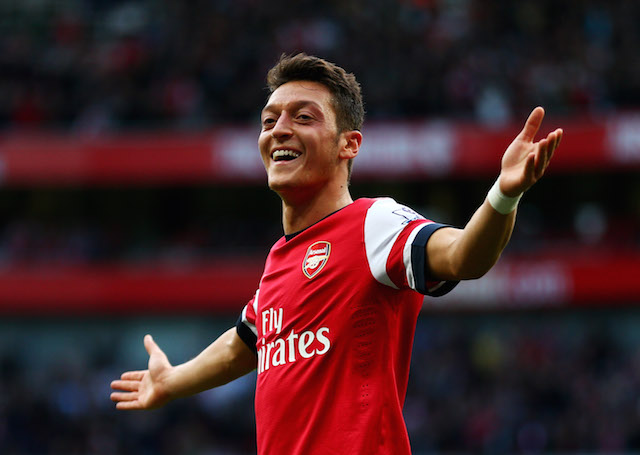 Arsenal playmaker Mesut Özil has revealed his passion for charity work during an interview with the Times newspaper.
The 27-year-old has stated that he prefers a low-profile approach to his charitable work off the field.
"I want to help people in need but I don't want people to know I'm doing it," Özil stated in an interview with ​Henry Winter of the Times.
"Usually, I don't like talking about it. I come from a background where you don't show off the good things you do. It's modesty.
"My aim is helping kids. Kids are the future. I love children. I'm thinking of my own childhood. I know where I'm from. If I wanted something, I couldn't get it. Life wasn't easy.
"Things I didn't have in the past I try to give to kids. I know how it feels not to have things. We were poor but we had enough food to eat. It was a big family, four kids, and it was not like you could just go and buy something. But we had the essentials, the food.
"My parents gave me the right principles, so I didn't get carried away. They always told me to be down to earth, that I was not special. They told me always to be nice to people.
"They said: 'You maybe have the ability to be a football star but it doesn't make you better than your brother and sisters. Respect each other. Be together'. That's how I grew up. It's a cultural thing."
Özil founded the 'Özil-Foundation' in 2015 to support children and young people around the world.
The Arsenal star has also been a Laureus ambassador and has worked with the foundation on charitable projects including helping Brazilian kids living in poverty after the World Cup.
The 27-year-old was also presented with a Laureus Sport for Good award in recognition of his work. Özil used his World Cup bonus to fund operations for 23 seriously ill Brazilian children.
The 27-year-old has won the Arsenal player of the month award for the last two months for the north London club and is expected to win the away for a third consecutive time for December.
See More
5 little-known facts about Barcelona star Arda Turan
Three reasons Arda Turan could be a success at Barcelona