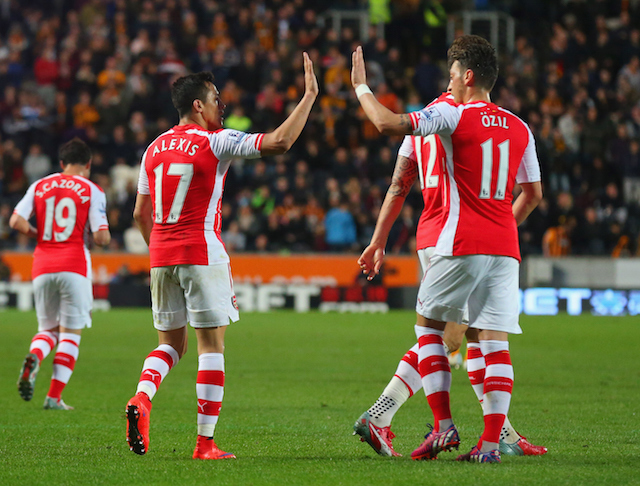 Mesut Özil has heaped praise on his fellow Arsenal teammate Alexis Sanchez.
Sanchez joined Arsenal from Barcelona at the start of the season for £35 million. The Chilean international has already established himself as a fan favourite and has cemented his place in the Gunners starting line-up.
Özil told Arsenal's official website about Sanchez's qualities and what it is like to play and train alongside him.
"He's the type of player who is very ambitious, who always wants to win and that takes him forward," Özil told Arsenal.com.
"You can see in training that he wants to score lots of goals and in matches he has lots of efforts on goal too. This year things have worked really well for him.
"He's scored a lot of goals – and some very important ones – for the team and we're pleased to have him in our side."
"His particular strengths are one on ones. He's agile, quick and dangerous in front of goal. He's scored a lot of goals for us this season, so I take my hat off to him."
Özil and Sanchez have been two of the best performing Arsenal players this season. The Chilean international has 20 goals and 11 assists in all competitions while Özil has five goals and seven assists.
See More:
Mesut Ozil
8 Super Lig players West Ham manager Slaven Bilic could target this summer
The World Cup winner has the most assists in the Premier League in 2015. The World Cup winner also has two goals and five assists in his last five games.
The 26-year-old actually has the third best minutes per assist rate in Premier League history.