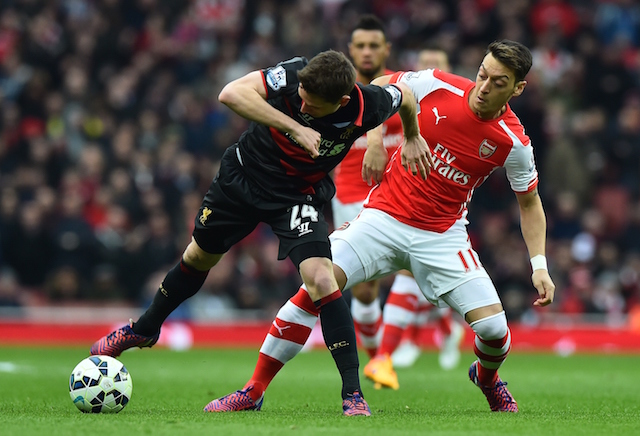 Arsenal midfielder Mathieu Flamini has stated that Mesut Özil is one of the best players that he has ever played alongside.
The France international who has previously also played for AC Milan, also stated that Özil's vision on the field is 'something that you don't find very often.'
"He has been giving so many assists and has been making so much difference in the past few games, so it's a pleasure to play next to him and it's also a pleasure to watch him on the pitch," Flamini told Arsenal's official website.
"His vision is something that you don't find very often, so he's easily one of the best players I've ever played with."
Özil has established one of the most beautiful bromances in the world of football with his dear Arsenal teammate Matthieu Flamini.
Theo Walcott has described the special bond the two players have as being 'Flamzil' and went as far to say: "They go to the gym together, have massaged together I wouldn't be surprised if they even share a house together."
Daniel Welbeck described the two players fondness for each other in a recent interview on the Arsenal Media: "The bromance of the season award goes to Mesut Özil and Flamini they are twins. I've played with twins, in Fabio and Rafael Da Silva, but these are closer
Özil won his third consecutive Arsenal Vitality Player of the Month award after an impressive run of form.
The 27-year-old picked up a hat-trick in awards picking up 81.2 percent of the public vote for the month of December.
Özil has provided a total of 16 assists in 19 Premier League games this season as well as three goals.
Arsenal take on Sunderland this weekend in the FA Cup and face Liverpool in their next Premier League fixture. The Gunners have won the FA Cup for past two seasons.
See More
7 Barcelona players to have worn the No 7 shirt – The Magnificent 7
Barcelona Player Profile: Arda Turan – The Bearded Genius