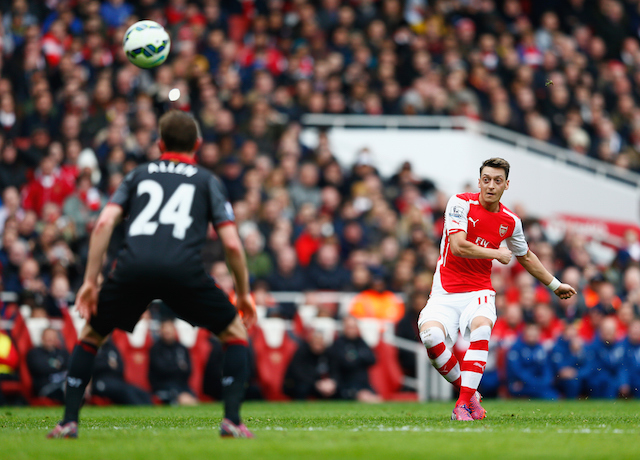 Arsenal star Mesut Ozil has revealed another of the unusual secrets behind development as a player.
Ozil revealed that he believes growing up playing against his older brother on a stoney pitch gave him an edge.
"What helped me before was playing against older people. I would play against my brother and his friends and they were always five or six years older than me," Ozil told the official Arsenal website.
"When I was 11, they were already 17 or 18. It was tough to play against them and the pitch I grew up playing on wasn't that nice, it always had stones on it."
Ozil stated that the hazards of being a young boy playing against a team of men on a pitch that could break your feet were key factors that helped him become a more skilful player.
"You had to be really concentrated when you got the ball. I think that kind of stuff helped me more," he added.
"Juggling with tennis balls is good but I think what helped my technique was the pitch I grew up on in Gelsenkirchen."
The World Cup winner underlined that playing on such a poor surface made him far more aware and alert which is no surprise when you have to dodge stones and far more physically developed guys charging towards you.
Ozil is widely regarded as one of the biggest talents in the league and while claiming anybody as being the best is a pretty subjective statement nobody can deny he has more assists than anybody else (18) and has created more chances than any other player  (116).
See More
3 things we learned about Mesut Ozil after Arsenal win over Everton
Arsenal boss wants Mesut Ozil to score goals like Thierry Henry