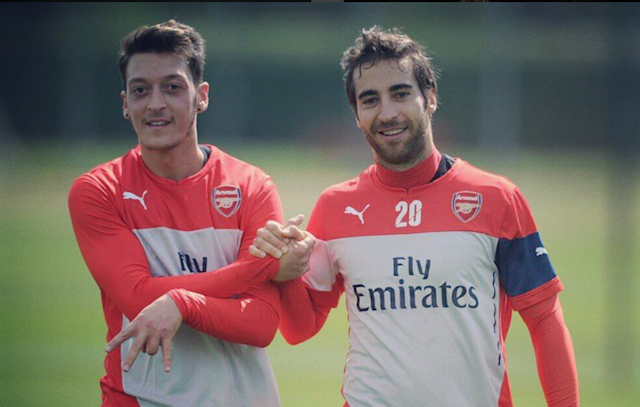 The bromance between Mesut Ozil and Flamini was first brought up in an interview on Arsenal Media back in June.
Daniel Welbeck described the two players fondness for each other by saying: "The bromance of the season award goes to Mesut Özil and Flamini they are twins. I've played with twins, in Fabio and Rafael Da Silva, but these are closer."
Meanwhile Theo Walcott went as far to say: "They go to the gym together, have massaged together I wouldn't be surprised if they even share a house together."
The bond between the two players in question has however, appeared to have grown even stronger over the last few months.
Ozil and Flamini's teammates have even coined a new nickname for them as a result of their closeness.
"We actually call them Flamzil," Walcott was quoted as saying by the Evening Standard.
Ozil posted five pictures on his Instagram account posing with the Frenchman on his Instagram in the month of April alone.
Flamini has not been shy in revealing that he feels a special relationship with the 26-year-old.
"Mesut is one of my closest team-mates and we were on the pitch," Flamini told the official Arsenal website.
Ozil is expected to start in the London derby against Crystal Palace at Selhurst Park on Sunday 16 August.
The Gunners lost their opening game of the season in another London derby against West Ham at the Emirates.
See More
Arsenal star Ozil predicts more Turkish players to join Premier League: Five potential candidates
Three Man Utd players who could join Van Persie & Nani in Turkey