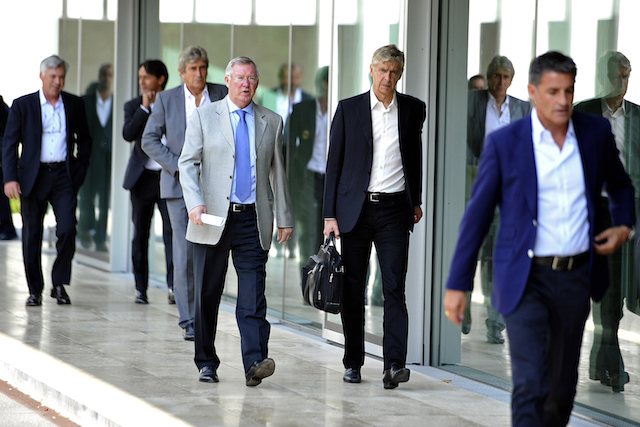 Fenerbahçe striker Robin van Persie stated that Arsene Wenger and Sir Alex Ferguson are among the great managers of world football.
Van Persie was full of praise for Wenger and Ferguson but did not include former manager Louis van Gaal among his list of the greats.
"Trust, respect, that goes two ways. That's what Arsene gives, what Sir Alex (Ferguson) gives, that's what the great managers give you," Van Persie told the Sunday Times.
The 31-year-old striker spent eight seasons at Arsenal under the stewardship of Wenger during which time he scored 131 goals.
Van Persie joined Manchester United in 2012 and Sir Alex Ferguson played a major role in convincing him to the move according to Rio Ferdinand.
Ferdinand wrote on his Facebook page that Van Persie joined United for the chance to play under Ferguson.
The statement read: "As I am posting this… it looks like my former team-mate Robin van Persie is joining Fenerbahçe. The moment Sir Alex Ferguson told us in the changing room at Carrington that he was retiring, I looked to my left around 6 lockers where I saw a totally devastating looking RVP… he was shaking his head in shock, completely disheartened it seemed. Robin took it the worst out of the whole squad. I, like many of the squad had been lucky enough to have played under Fergie for many years but Robin had just got to the club and part of his fairy-tale of joining was playing under Sir Alex."
Van Persie joined Fenerbahçe from United on a three-year move last Tuesday in-front of 18,000 fans at the Şükrü Saracoğlu stadium.
Fenerbahçe will take on Shakhtar Donetsk in the Champions League play-off preliminary round and could end up taking on United in the final play-off stages.
See More
Van Persie would 'love' Man Utd to face Fenerbahce in Champions League play-off
Top Five goals Nani scored for Manchester United