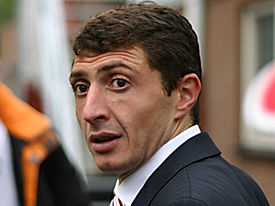 Arveladze – 'Lifting of foreign player restrictions is a milestone in Turkish football' [divider]
Kasımpaşa manager Shota Arveladze believes the lifting of the foreign player restrictions could result in a revolution in Turkish football.
"The foreign player rule could mark a turning point in Turkish football," Arveladze said.
"It is a revolutionary decision and I want to thank the federation for going ahead with it. 
"Some may have fears and reservations but long term this is going to really benefit Turkish football over the next 5-10 years. 
"But it is also it would be wrong to think just by imposing this rule everything will magically get better, a lot more work has to be done."
The current foreign player ruling states that only five non-Turkish players are permitted to play at any one time and three foreign players are allowed on the bench.
Under the new ruling 14 domestic and 14 foreign players will be permitted for each club.