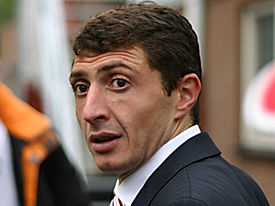 Arveladze – 'We have no defence going into the Besiktas game' [divider]
Kasımpaşa manager Shota Arveladze underlined the differences between his side and Beşiktaş.
"Every team has their own strengths, Beşiktaş are wealthier and as they have a bigger reputation that have more self belief," Arveladze said.
"This has an effect on performance. 
"Beşiktaş have had some great results and given impressive performances in Europe but we will be no pushover."
Arveladze also commented on both sides missing key defensive players.
"Both teams players missing in defence, we will not even have a defence for this game," Arveladze said.
Beşiktaş will be without the injured Tomas Sivok and suspended Pedro Franco.
Defender Ersan Gülüm also has an injury but is expected to recover in time for the mini Istanbul derby on the weekend.
Midfielder Necip Uysal may be used as a makeshift defender and play alongside Gülüm if he recovers. 21-year-old defender Atınç Nukan is another option Slaven Bilic has at his disposal.
Kasımpaşa also have a number of defensive worries, Ryan Donk and Barış Başdaş are both suspended.