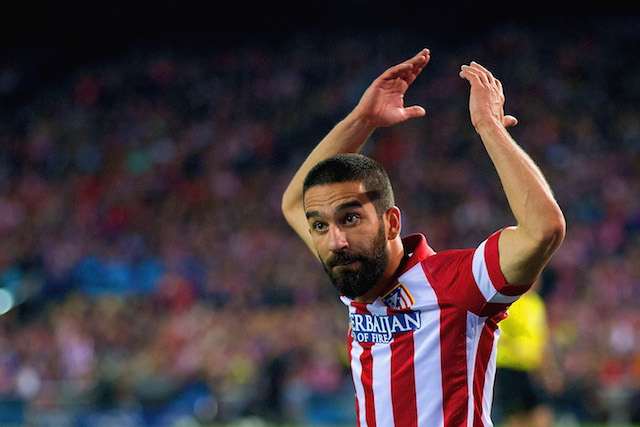 Barcelona presidential candidate Laporta has stated that the bid for Atletico Madrid winger Arda Turan = is an attempt to distract fans from the failure to sign Paul Pogba.
"After the mess to try and sign Pogba, the rumours about Arda Turan started to circulate in an attempt to cover up the ridicule Braida and Soler made of themselves in Milán – going out there declaring that they are going to sign a player and coming back empty-handed. It just makes Barça look stupid," Laporta told AS.
See More
Four reasons why Man Utd & Chelsea target Arda Turan will be a great addition to the Premier League
Five things to know about Chelsea and Man Utd target Arda Turan
Laporta also underlined that Barcelona cannot currently sign Turan and would only be able to make an official offer following the presidential elections on 19 July.
"The board cannot overstep the line [on these issues]. He's a wonderful player, I love him, but the board cannot display signs of interest for players at this moment, they must wait until the 19th when the new president has been elected. We don't want players to come here by force – every player wants to join Barça. Making such a serious inversion for a player requires a great deal of study by many people at the club. The board decided on Tuesday that they wouldn't be getting involved in the matter because they haven't the authority to do so," he added.
Barcelona have been closely linked with Turan after Josep Maria Bartomeu claimed that head coach Luis Enrique wants the deal to go ahead.
"He's a very good player, has real quality and perfectly marries what Luis Enrique wants for next season," Bartomeu told Esport3.
Bartomeu quoted a fee around the €35 million mark but Turan's agent Ahmet Bulut stated that his client will go for his full €41 million release clause.
Turan will leave Atletico Madrid over the next few days according to his agent. Barcelona, Manchester United and Chelsea have all been closely linked with the bearded winger.
The 28-year-old became the first Turkish international to win the La Liga with Atleti and has also won the Spanish Cup, Europa League, European Super Cup and was part of the Rojiblanco's side that reached the Champions League final.