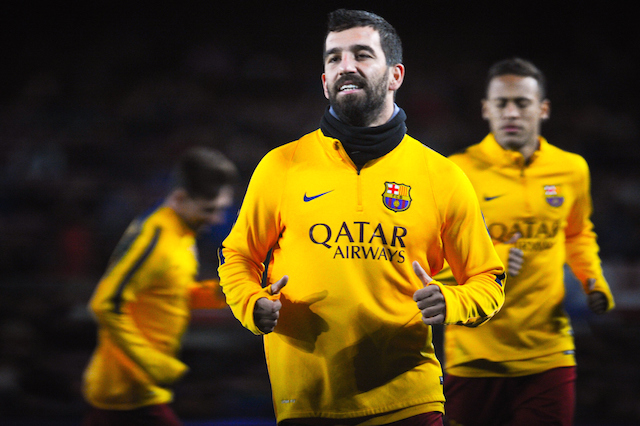 Arda Turan had a number of reasons to celebrate Barcelona's 3-1 victory over Arsenal 3-1 at the Camp Nou.
Firstly it ensured Barca progressed to the Champions League quarter-finals extending their unbeaten run to 38 games in the process. Secondly Barca have now won all 16 games in which Turan has featured in this season. Thirdly the bearded one made his competition debut for his new side.
Turan missed Neymar and Suarez's goals coming on for Ivan Rakitic on 77 minutes but was on the field to watch Messi work his magic for his sides third and final goal.
The Turkish intentional star did not have time to make an impact but it was an important milestone in his Barca career nonetheless.
We took a look at the fans reaction on social media regarding Turan's debut performance
The big question going into the game was whether he would start or not after an impressive last few matches.
@ChampionsLeague Arda Turan's ban in the competition is now lifted…Could he stand out for Barça on his #UCL debut? @robtdaly #MatchdayLive

— Thomas Dolfi (@DolfiThomas) March 8, 2016
The answer was: No.
Turan's stats were pretty decent he has passed with an accuracy over 90 percent so far this season and reached the dizzying heights of 95 percent against Arsenal although it is worth pointing out he did only make 21 passes.
Arda Turan statistics at Barcelona – Arsenal pic.twitter.com/QPwWPF5xQk

— hokey pokey (@onurkizilcelik) March 17, 2016
Arsenal fans highlighted the strength in depth Barca have in being able to bring on a player of Turan's calibre off the bench.
Imagine as an arsenal player basically getting destroyed for 2 legs then you see Arda Turan strolling off the bench for last 10 mins 🙈🙈

— Steven Waters (@stevenwaters16) March 16, 2016
Barca have Arda Turan on the bench, Arsenal have Walcott… see the problem?

— Bastard Uncle (@abDUL__waHAB_) March 16, 2016
Turan did not quite make the kind of impact this tweeter was expecting.
Oi the Turkish Ledge #ArdaTuran is gonna come on and slalom body swerve the entire Arsenal midfield now!!!

— Jerry Lyons (@TheDarkPoet) March 16, 2016
Not all Arsenal fans were quite as supportive of Turan.
Completely unrelated to Arsenal, I'm glad to see that Arda Turan's call to join Barcelona paid off. Congratulations: you're a nobody.

— Chilean Gunner (@chileangunner) March 16, 2016
The bearded one was even called a dirty player!
Arda Turan is such a dirty player, will fit in well with Gerrard Pique, Javier Mascherano, Dani Alves, Jordi Alba and Sergio Busquets

— Tomislav Zarkovic (@Tommy_Arsenal) March 16, 2016