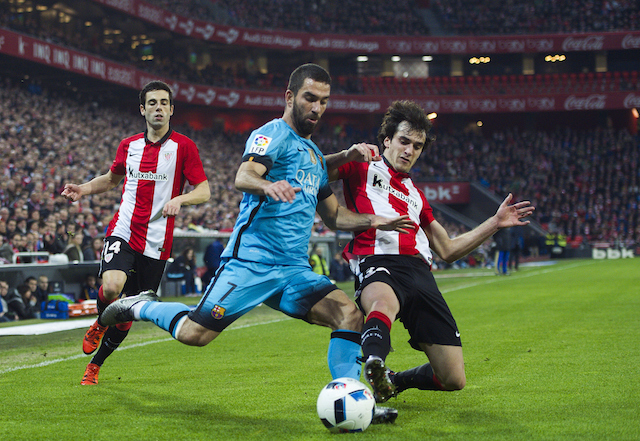 Barcelona crashed out of the Champions League following a 2-0 defeat – 3-2 on aggregate – against Atletico Madrid at the Vicente Calderon.
We took a look at how social media reacted to the performance of Arda Turan.
Turan did not start for Barcelona but he would have almost been certain to be in the starting line-up had he stayed at Atletico Madrid which is something this tweeter brought up.
Arda Turan left Atletico to sit on Barca's bench for half a season only to be knocked out in the CL by them when he's only started to play.

— fátima (@fatimafsays) April 13, 2016
There were high hopes when Turan did eventually come on.
Arda Turan late equalizer. It's written in the stars.

— BarcaBlaugranes (@BlaugranesBarca) April 13, 2016
They were however, short lived as Barca crashed out of the Champions League following a 2-0 defeat.
Turan got trolled after the game as one of the reasons he gave for leaving Atleti was to lift the Champions League – despite reaching the final of the competition back in 2014.
The bearded winger thought he had a better chance at winning European football's most prestigious title but he ended up being knocked out against the side he left to pursue his dreams.
Arda Turan: "I'm here to win the Champions League" pic.twitter.com/FQ99nSxJZY

— Troll Football™ (@TrollFootbaII) April 13, 2016
The joke today is on Arda Turan 😂😂😂😂😂

— Hushkitty (@UAB__17) April 13, 2016
That awkward moment when you realise Arda Turan left Athletico for Barca to win the Champions league.
☺☺☺☺☺☺☺☺☺☺☺☺☺☺☺☺☺☺

— NsukDropOut (@Abu_swag) April 13, 2016
There were however, still a few fans of Turan left on board by the end of the final whistle.
We still believe in you @ArdaTuran just takes time to prove it..

— Be a good learner (@md_khoirulhuda) April 13, 2016