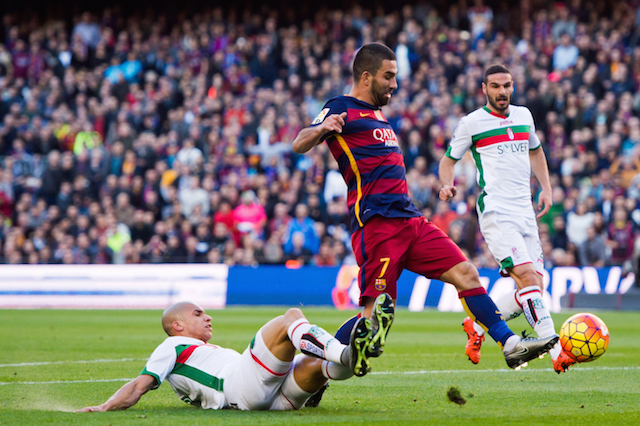 Barcelona have won both their last last two games with Arda Turan starting and have scored four goals in each match.
It is not hard to see just why Turan has become an instant hit with Barcelona fans.
The bearded winger even managed to provide an assist in the 4-0 win over Granada today in his La Liga debut for Barcelona.
We took to social media to take a look at how fans reacted to his performance against Granada today.
Several fans were impressed with how quickly Turan has settled into the current Barcelona side despite playing just two games.
Barcelona boss Luis Enrique prevented Turan from leaving on loan despite having to miss his first six months due to the FIFA transfer ban imposed on the club.
It seems Enrique was justified in keeping Turan at the club to settle in and adapt to the team philosophy.
Arda Turan already looks like a player that's been playing at the Camp Nou for half a decade, seamless transition into the team.

— Rafael Hernández (@RafaelH117) January 9, 2016
Astonishing how Arda Turan has adjusted instantly, being out for 5 months and all. Great chemistry with players & enjoying himself on pitch.

— Sergi Domínguez (@FutbolSergi) January 9, 2016
You'd swear Arda Turan has played for Barça all his life. Great stuff ❤️

— Nomastro (@Ncuurzee) January 9, 2016
Other fans were just simply blown away by his display.
ARDA TURAN IS LIFE!!!

— Niko (@Nikomarvel) January 9, 2016
Arda turan on fire

— FCB.MIRI.FCB (@MiriamDakirFCB) January 9, 2016
Arda Turan was extremely impressive today. Magnificent skill, excellent passing and great tackles!

— Omar Al Amiri (@3amoorAlamiri) January 9, 2016
Arda Turan is ready for his first La Liga game @barcastuff pic.twitter.com/T4rEsBmK1e

— Fatih Sneijderoğlu (@Sneijderizim10) January 9, 2016
Turan dreamt of playing for Barcelona as a kid and one of his goals after joining was to provide Messi with an assist.
Arda Turan (2014): "I'd want to play for Barcelona…it would be pretty cool to provide an assist for Messi!" #dream pic.twitter.com/8vcVK4Ja9I

— Red&Yellow (@Ataqoz) January 9, 2016
Arda Turan: Has picked up his first assist in La Liga since January 2015 (Atletico Madrid vs Granada)

— WhoScored.com (@WhoScored) January 9, 2016
See More
7 Barcelona players to have worn the No 7 shirt – The Magnificent 7
Barcelona Player Profile: Arda Turan – The Bearded Genius