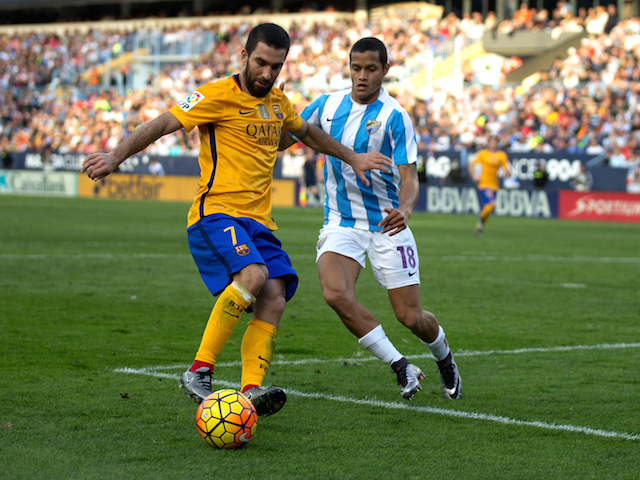 Barcelona beat Sevilla 2-1 at the Camp Nou to extend their unbeaten run to a league record 34 games.
The reigning La Liga champions have now matched rivals Real Madrid's 34 match unbeaten run which went stretches back to the 1998-99 season.
Luis Enrique gave Arda Turan his second consecutive start in the league and Barca managed to extend their win streak to 12 games in matches which the bearded winger has featured.
Turan almost setup his fourth goal since joining Barcelona in the first half setting up Messi but he did create the joint highest number of goal scoring chances (3) over the 90 minutes.
The 28-year-old winger made a total of 48 passes at a 92 percent accuracy maintaining his impressive pass rate which averages over 90 percent.
We took a look at social media to check out what Barcelona fans made of Turan's performance.
Some Barca fans have not been happy with Turan's output but not all agree.
What if I don't accept your paradigm of "When will Arda Turan play well?" because I think he's playing just fine?

— Isaiah (@fcbfootballblog) February 28, 2016
Turan was joined by one of his biggest fans after the game – Turkish actor and comedian Cem Yılmaz – who flew out to Barcelona to watch the winger play.
Barcelona'dan sevgiler…@ArdaTuran kardeşimle önümüzdeki maçları konuştuk ! pic.twitter.com/7Tgnv2qPPD

— Cem Yılmaz (@CMYLMZ) February 28, 2016
Turan also made the front page of the UEFA campaign against racism.
Arda Turan UEFA'nın sayfasında https://t.co/RhQi4LqfR7 pic.twitter.com/mnpoKX4M2s

— NTV (@ntv) February 28, 2016
Was this Turan?
Arda Turan, is that you? pic.twitter.com/7frr0R6FwA

— TurkishTrollFootball (@Turkish_Troll) February 28, 2016
Turan also revealed his Oscar predictions after the game.
And my Oscar goes to… #Oscars2016 pic.twitter.com/XmiE00vfph

— Arda Turan (@ArdaTuran) February 28, 2016
See More
Barcelona play like 'chess', says Arda Turan
Barcelona legend reveals he is a fan of Arda Turan