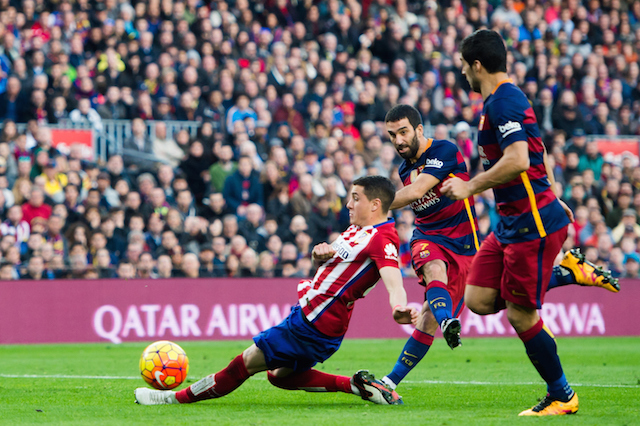 Barcelona star Arda Turan started his sixth game in the 7-0 demolition of Valencia in the Spanish Cup semi-final first-leg tie against at the Camp Nou yesterday.
Turan provided his third Barcelona assist setting up Luis Suarez with his fourth and the teams seventh goal which coincided with the bearded wingers shirt number that also happens to be seven.
https://twitter.com/therealfanatix/status/695200916979347456
The Turkish international winger has now made eight appearances in total for the reigning Cope del Rey champions.
Barcelona have won all nine games since Turan made his debut against rivals Espanyol last month scoring 32 times and conceding just five.
We took a look at social media to get to lowdown on how the bearded wingers performance went down with the Twitterati.
Turan has now setup as many goals as he did in his last 32 matches for Atletico Madrid – a stat that went down pretty well.
https://twitter.com/i10LeoMessi/status/695009451741327360
Another interesting statistic from the game was that Turan and Vidal provided an assist in the same game for the first time since making their debut – both played their first game last month following the lifting of the Barcelona transfer ban.
This is the first game in which Aleix Vidal and Arda Turan made an assist

— Barca Stats (@FCBNumbers) February 4, 2016
Luis Enrique who insisted on bringing Turan and Vidal over despite the UEFA ban last summer has also been getting quite a lot of praise for his transfer policy.
I just feel that Luis Enrique is not being appreciated enough. Now you see why he went for Arda Turan. That's foresight! #FCBValencia

— Shaibu Success (@Great1_Success) February 3, 2016
Turan has become something of an ambassador for Turkish football and a source of pride for many Turks but this Tweeter took things a little overboard.
Arda Turan'ın asistin'den sonra @ntvspor pic.twitter.com/crZ6SnOfWc

— romelyon (@romelyon) February 3, 2016