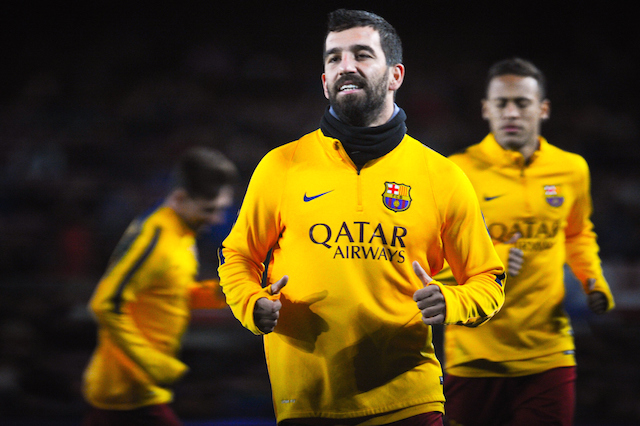 Barcelona have been in great form since Arda Turan first made this debut last Wednesday against Espanyol in the Spanish Cup Last 16 first-leg tie.
Turan started for Barcelona last week in the 4-1 victory over their rivals and featured in the starting lineup yet again in the 4-0 win over Granada in the league.
The bearded winger got to start for the third consecutive game yesterday in the second-leg of the cup tie against Espanyol and helped his side to a treble of victories.
Turan was yet again in impressive form so we thought it would be worth checking out what the twitterati thought about his performance.
The Turkish international star already has one assist for Barcelona but played such an important role in the opening goal against Espanyol yesterday that he should have at least received a half-assist.
The Turkish press went as far to describe Turan's defence splitting pass as the assists assist.
arda turan asistin asistini yaptı…

— b (@barcagala) January 13, 2016
https://twitter.com/eemrearslan/status/687400548631490560
Aleix Vidal also got an assist meaning both of last Wednesday's debutants have now setup a goal for Barcelona.
https://twitter.com/NairNishith01/status/687390348193091584
Arda Turan and Alex Vidal are fitting into Barca quite good

— Jose (@YoungPeps) January 13, 2016
@ArdaTuran Good game & well played😊 thanx for hard work😄 Visca La Barca❤💙

— Julia (@FCBJulia) January 13, 2016
Arda turan ❤️

— Kaneki (@trigga_92320) January 13, 2016
Turan and Pique's pre-game banter also received quite a lot of attention.
JAJAJAJAJAJA. No puedo 😂😂😂😂😂 @ArdaTuran pic.twitter.com/aO4A8rGZZO

— Messi👑 (@ms_camara21) January 13, 2016
https://twitter.com/sporkolikdunya/status/687364818920181761