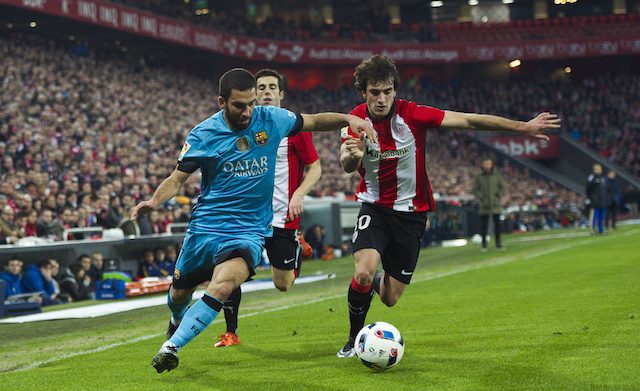 Playing Barcelona's tiki-taki style is not easy according to the Turkish international Arda Turan.
The 29-year-old went onto state that while the Catalan giants style look easy to onlookers, it instead resembles a challenging game of chess.
"From the outside, it's like chess, which looks easy to play, but just like tiki-taka, it's not," Turan told Goal.
"Everyone has a duty, a position, and everyone is fulfilling their duties.
"It's exactly like a game of chess, and it's not that easy at all."
Turan has been left out of the squad which faces Arsenal tonight in the UEFA Champions League due to suspension.
The bearded winger was sent off against Real Madrid while playing for Atletico Madrid in the quarter-final stage las season. Turan will be available for the return-leg at the Camp Nou.
Barcelona are unbeaten in their last 31 games. Turan made his debut for the club against rivals Espanyol in the Spanish Cup. Barca won the game 4-1 and the bearded winger started on the right side of midfield.
See More
Barcelona Player Profile: Arda Turan – The Bearded Genius
Three reasons Arda Turan could be a success at Barcelona