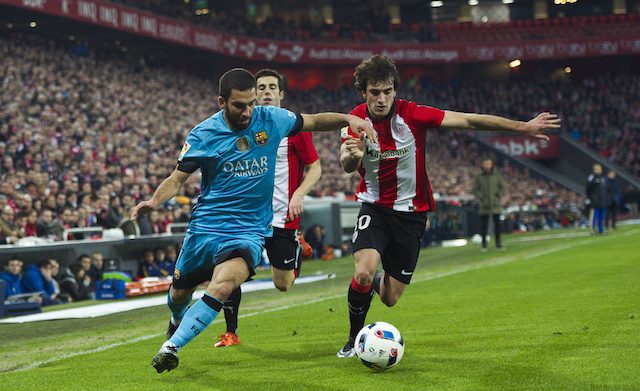 Arda Turan has stated that he has needed to adapt his game since joining Barcelona.
The 29-year-old acknowledges that their are more talented players than himself in the squad and that he must contribute both offensively and defensively.
"Here I have a different mission than I had at Atletico," Arda told Mundo Deportivo .
"Here I must defend and attack, and serve the three up front. I must change, because here everyone is a star.
"I also like to do nutmegs and play one-twos, but there are others here who do it better than me, so you must pass the ball to them, because with them football is easy."
Turan scored his first goal for Barcelona yesterday evening during the La Liga giants 5-1 victory over Vallecano.
The Turkish international's goal came in the 86th minute when he headed in a cross from Jeremy Mathieu.
Barcelona boss Luis Enrique recently stated that he is happy with Arda Turan's versatility.
"Arda can play through the middle as well as on the wing, and until now he's done well in both positions," Enrique was quoted as saying by Goal.
"Each position has different demands in attack and defence, but Arda is doing well in both."
The reigning champions have gone 35 games without a defeat which is a club record surpassing the overall Spanish record set by Leo Beenhakker during his time in command of Real Madrid back in the 1988-89 season.
See More
Barcelona win 12th consecutive game Arda Turan has featured in
5 little-known facts about Barcelona star Arda Turan