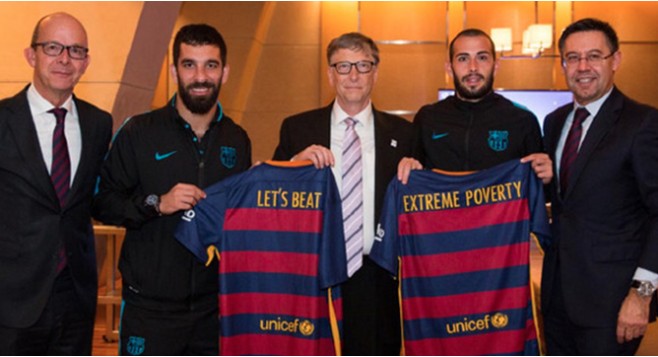 Barcelona star Arda Turan and Aleix Vidal joined club CEO Josep Maria Bartomeu today ahead of a meeting with Bill Gates regarding ending extreme poverty.
Turan will join Vidal and Bartomeu for the event between the FC Barcelona Foundation and the Bill & Melinda Gates Foundation at the Grand Hyatt Hotel in Tokyo at 6.30pm today.
The purpose of the event is to push and promote the 'Let's Beat Extreme Poverty'.
Gates told the official Barcelona website: "FC Barcelona has been a partner to talk about some of the great causes in the world, ending polio, helping children's health and because FC Barcelona believes in these causes, they are great partners. The digital platforms that the teams and the players have for us to get good news out and our support for these causes, speak to the values of the team."
"Our foundation has very ambitious goals about improving health by drawing in the fans. I think we can accelerate our progress to reducing these great inequities, children who don't grow up to have things that we take for granted."
Barcelona are currently in Japan ahead of the World Club Cup which kicks off for the reigning Champions League title holders on Thursday.
The Turkish international winger is unable to play in the tournament despite joining on a five-year deal from Atletico Madrid over the summer due to the FIFA transfer ban currently in place.
The World Club Cup is a tournament held between the champion clubs from each of the six continental confederations, as well as the national league champion from the host country – Japan.
See More
5 little-known facts about Barcelona star Arda Turan
Is Mesut Ozil finally showing his true colours at Arsenal?