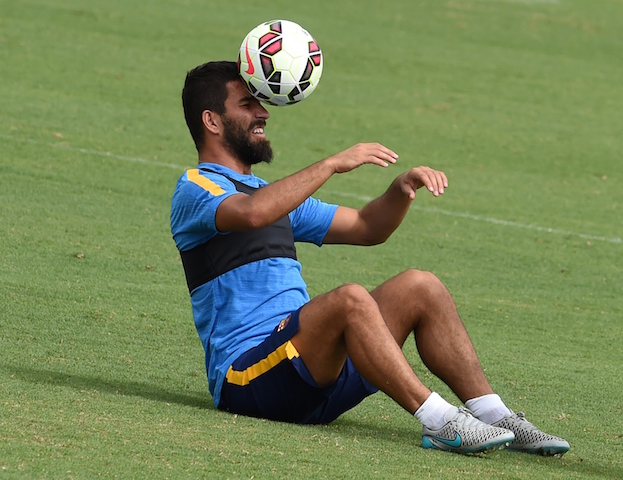 Barcelona's latest transfer Arda Turan has been rated as the 78th best footballer in the world by the Guardian newspaper.
The 28-year-old is down 40 places since last year where he was ranked in 38th place.
The daily newspaper included the following caption regarding Turan, "The only Turkish player on the list, the energetic midfielder Arda Turan's slide down the rankings is down to his move from Atlético Madrid to Barcelona in the summer, which meant he has not played club football since May 2015 due to the European champions' transfer embargo.
"The buzzy 28-year-old creator with the big beard was loved by Diego Simeone and will be hugely missed by Atlético. He was very unlucky to be sent off in the Champions League quarter-final against Real Madrid, a decision that swung the tightest of ties in Real's favour.
A player capable of occupying a variety of midfield positions, he should slip into Barça's well-oiled machine seamlessly, with his spatial awareness, dribbling skill and vision perhaps shining brighter than ever before."
The Turkish international midfielder joined Barcelona on a five-year deal from Atletico Madrid over the summer knowing that he would have to sit on the sidelines for six months.
Barcelona are currently serving a FIFA transfer ban which expires in the new year. Turan is expected to make his debut at the Camp Nou in the Copa del Ray clash with city rivals Espanyol.
The former Galatasaray man has years of experience playing in the La Liga and has lifted every domestic title in Spain as well as the Europa League and European Super Cup.
Barcelona lifted the World Club Cup yesterday after beating River Plate 3-0. Turan was taken to Japan with the team by head coach Luis Enrique to train with the team.
See More
5 little-known facts about Barcelona star Arda Turan
Is Mesut Ozil finally showing his true colours at Arsenal?