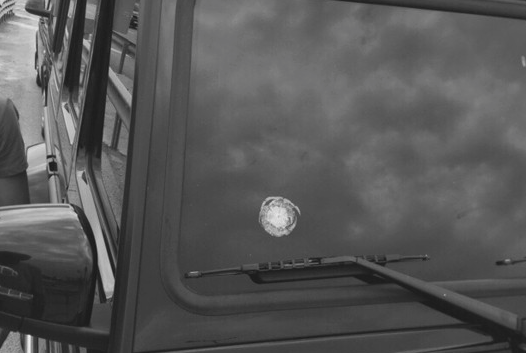 Barcelona winger Arda Turan has condemned the armed attack on Fenerbahçe midfielder Mehmet Topal's car today.
Topal was travelling with Fenerbahçe youngster Uygar Mert Zeybek in his Mercedes G 63  shot at in an armed attack following training at the Can Bartu grounds.
Topal was in his car returning home when his vehicle was shot at however, the gun attack did not prove to be fatal as the bullet proof glass protected the Turkish international from serious injury.
The electroluminescent bulletproof glass of the G 63 model ultimately saved Topal and Zeybek from a potentially fatal attack.
Arda Turan condemned the attack on his Turkish international and former Galatasaray team-mates via his Twitter account.
Turan stated: "I condemn the attack on Mehmet Topal, he is a great guy and has the type of character they will teach to kids as a role model in the future. I wish him all the best."
The bearded winger also posted a second tweet wishing all the best for Zeybek as well: "I just learned that Uygar Mert Zeybek was also in the car and want to give him my best wishes and hopes he gets over this."
Mehmet Topal'a yapılan saldırıyı kınıyorum. Onun adamlığı okullarda ders diye okutulur. Pırlantadır. Geçmiş olsun!

— Arda Turan (@ArdaTuran) August 11, 2015
Saldırı sırasında araçta olduğunu yeni öğrendiğim Uygar Mert Zeybek kardeşime de büyük geçmiş olsun.

— Arda Turan (@ArdaTuran) August 11, 2015
Topal and Zeybek gave statements to the police after the attack but the assailants have yet to be caught and remain at large.
Topal was also on the team bus during the last armed attack on Fenerbahçe in April.
The first attack occurred when the Fenerbahçe team was making its way toward Trabzon's airport following a 5-1 Süper Lig victory at nearby Çaykur Rizespor.
The driver Ufuk Kıran was shot but fortunately nobody else was injured.
See More
Fenerbahce News
Fenerbahce make loan bid for Palmeiras striker Henrique
Neymar: 'I support Fenerbahce because of Diego'