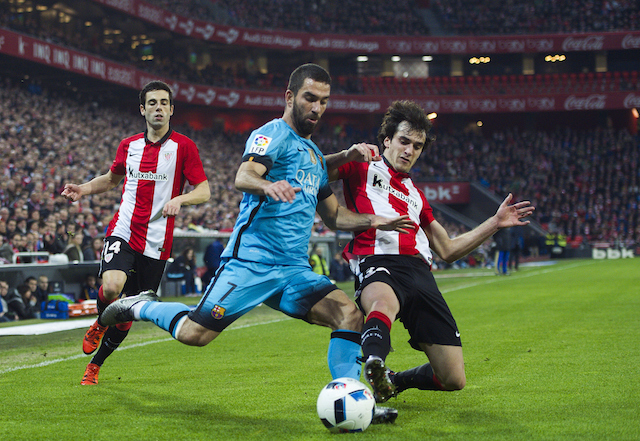 Barcelona star Andres Iniesta has come out in support of teammate Arda Turan and praised the Turkish international.
Turan started for Barca in the 2-1 victory over Sevilla on the weekend helping extend his sides unbeaten run to a record 34 games but he did not escape criticism from the Spanish press.
According to Marca, Turan is struggling to fit into Barcelona's system, whereas El Mundo Deportivo said that the Turkish international is a long way off his form at Atletico Madrid which earned him a move to the Champions League title holders.
Iniesta brushed aside the criticism and also revealed that there is room for both Turan and himself in the current Barca side.
"Arda is a quality player and has settled in quickly to his new team," Iniesta was quoted as saying by the Hürriyet newspaper.
"As you have all seen we are more than capable of playing together."
Turan has played predominantly in midfield rotating on the left and right side but has also played on the right and left wing this season.
Barcelona have won all 12 games in which Turan has featured this season. The bearded winger has a total of three assists in all competitions for the reigning La Liga champions.
See More
Barcelona win 12th consecutive game Arda Turan has featured in
5 little-known facts about Barcelona star Arda Turan