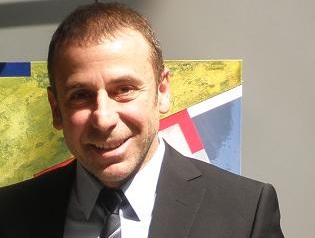 Basaksehir 2 – 2 Mersin – Confirmed starting line-up's
Basaksehir rescued a point with a late goal to draw 2-2 with Mersin Idmanyurdu.
Mersin took the lead in the 5th minute but were pegged back in the 47th minute. Mehmet Taş looked like he was going to bring home all three points with a 76th goal however, Perbet's late goal salvaged a point for Abdulla Avci's side.
Basaksehir have dropped down to fifth place behind Bursaspor while Mersin remain in 9th place,
Kick-Off: 11:30
Stadium: Başakşehir Fatih Terim Stadı
Referee: Ali Palabıyık
See More:
Preview & Prediction
Kavlak – 'The Vodafone Arena will be one of the greatest stadiums in the world'
Vodafone Arena will be Turkey's first environmentally friendly stadium
Basaksehir: Volkan Babacan, Rızvan Şahin (.81 Enver Cenk Şahin), Yalçın Ayhan, Epureanu, Alparslan Erdem, Visca, Rotman (.62 Perbet), Mahmut Tekdemir, Tayfun Pektürk, Mossoro (.71 Sezer Öztürk), Semih Şentürk
Mersin İdmanyurdu: Nihat Şahin, Serkan Balcı (Dk. 79 Serkan Yanık), Servet Çetin, Mitrovic, Vederson, Murat Ceylan (.58 Mehmet Taş), Sadıku, Güven Varol, Sinan Kaloğlu (.58 Pedriel), Khalili, Welliton
Goals: .5 Sinan Kaloğlu, .76 Mehmet Taş (Mersin İdmanyurdu), .47 Visca, .88 Perbet (İstanbul Başakşehir)
Yellow Cards: .16 Semih Şentürk, .77 Mahmut Tekdemir (İstanbul Başakşehir), .16 Khalili, .21 Serkan Balcı, .72 Mitrovic, .77 Mehmet Taş, .89 Güven Varol (Mersin İdmanyurdu)