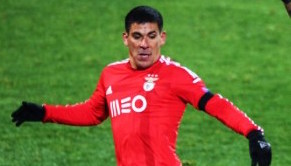 Benfica reject Beşiktaş bid for Maxi Pereira [divider]
Benfica have rejected a bid from Beşiktaş for Maxi Pereira according to Black Eagles vice president Ahmet Nur Çebi.
"Benfica will not release Maxi Pereira, we received news today from his club confirming that he will not be leaving," Çebi said.
Çebi also revealed that Beşiktaş are in talks with 5-6 players.
"We do not make transfers like we used to, we have a totally different policy and way of doing things now," Çebi said.
"We are in talks with 5-6 players right now, we are on the verge of signing a right-back, it is up to Slaven Bilic now, we have a number of players ready to join and he will pick the best candidate. 
"These are well thought our and planned transfers."
The Black Eagles have played much of the season without a right-back due to injuries and a lack of depth.
Beşiktaş have also been linked with Sporting's Junior Caiçara, Dinamo Zagreb's Ivo Pinto and Chelsea duo Mohammed Salah and Nathan Ake.