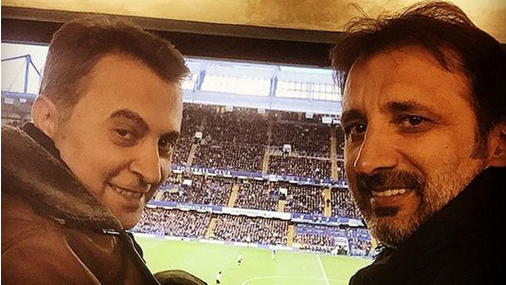 Beşiktaş have not had an easy ride the last few years.  The club was in debt to the tune of £231 million, facing 142 lawsuits and suspension from UEFA competitions for being in a financial black hole – followed by another ban the following season for the previous board's alleged involvement in match fixing.
"Nobody else wanted to run this club, we were on the verge of collapse," Fikret Orman stated after his election as Beşiktaş president in 2012. Prominent members of the club fled and severed ties leaving room for Orman to implement sweeping changes and appoint staff that were to be politically correct a tad more professional.
The financial crisis looked to have doomed Beşiktaş but has turned out to be a blessing in disguise as it allowed the club to restructure, modernise and bring in sweeping changes necessary to compete in the modern game.
Orman took radical steps to remould the club. The Black Eagles administrative director Semih Usta underlined the new ethos in an interview with UEFA, "We made our short-to-long-term plans and will do our best to transform Beşiktaş into a club that pays particular attention to youth infrastructure, facilities and scouting."
The president required a commander to take his revolution from the board room to the pitch and found one in Slaven Bilic. The current West Ham boss brought in new coaches, new scouts and new training methods. Beşiktaş brought in several promising players at bargain prices constructing a new squad in the process.
The Eagles spent £10.46m in Bilic's first season in charge and £10.84 million in his second. The Istanbul giants did not win the league in-fact they finished third in 2013-14 and 2014-15 but the seeds had been sewn. Bilic had his side setup in a 4-2-3-1 setup that current boss Şenol Güneş continues to use. Rising stars Gökhan Töre, Oğuzhan Özyakup and Kerim Frei started developing and the team started playing some of the most aesthetically pleasing football in the league. Beşiktaş first started showing signs of progress in Europe almost beating Arsenal while defeating Tottenham and knocking Liverpool out of the Europa League.
The signs were promising. Beşiktaş lacked experience and had a group of players that may have not won as many trophies as the stars of Fenerbahçe and Galatasaray but whereas their Istanbul rivals were ageing the Eagles were in growth phase.
Beşiktaş are currently second but it is worth noting that the Eagles are just two points behind leaders Fenerbahçe with two games in hand – due to two matches being abandoned due to heavy snowfall. The Black Eagles will go four points clear if they win both those games.
The Black-Whites returned to league football last weekend with a 4-0 win over Gaziantepspor but there was however, something else being celebrated last week and it was not the Vodafone Arena stadium nearing completion. The Eagles made a profit in the transfer market for the first time in a decade. The Istanbul giants made a £8.96 million profit thanks to the influx of Chinese money and the sale of Atınç Nukan to German big spenders Leipzig.
Not only did Beşiktaş make a profit but they strengthened the squad at the same time bringing in Mario Gomez who is currently goal king with 15 league goals as well as Dnipro goalkeeper Boyko, Hannover defender Marcelo, fellow Brazilian defender Rhodolfo and Delgado from Getafe.
Beşiktaş are set for further financial gains following the completion of their state of the art Vodafone Arena stadium which will probably be among the most attractive stadiums in the world when completed both in terms of design but also location.
Turkish clubs have come under fire for uncontrolled spending and spiralling debts recently. Galatasaray face the prospect of a European competition ban for failing to meet Financial Fair Play regulations despite playing Champions League football for the past four seasons and featuring almost every year over the same duration in the Deloitte money league.
Beşiktaş offer a fresh approach to football in Turkey and a model that may end up being the blueprint for their Istanbul rivals as they try to adapt to modern football. The Eagles has not landed just yet but at this rate it won't be long before it does.