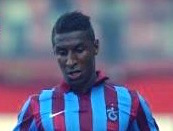 Constant focused on AFCON 2015 [divider]
Trabzonspor midfielder Kevin Constant believes he will show what he is capable of at the African Cup of Nations 2015.
"I always come with the same hunger and the same determination. What happened during the last camps has been addressed directly with the coach, the federation's officials and some of the players," Constant told foot224.net.
"There is no problem in that regard. Everything has been clarified by the coach.
"I am now focused on the AFCON. It will be my first AFCON since I am playing for Guinea and I am going to show everyone the true level of Kévin Constant."
The Guinea midfielder joined Trabzonspor from AC Milan last summer.
The 27-year-old has two goals in 18 appearances in all competitions this season.
Constant has three goals in 27 international caps for Guinea.