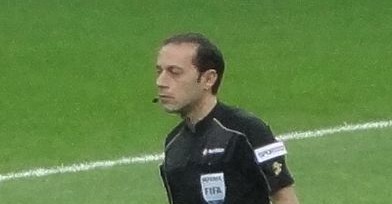 Cüneyt Çakır became the first Turkish referee in 40 years to officiate at a World Cup this summer, following in the footsteps of Doğan Babacan who was assigned to officiate at the 1974 World Cup.
Çakır admitted that he felt a lot of pressure before the start of the World Cup but could not wait to officiate his first game.
See More
Cuneyt Cakir ranked 8th best referee in the world
Cüneyt Çakır leaves hospital
Cüneyt Çakır receives rave reviews from Italian press
"We went to Brazil 12 days before the tournament started to adapt to the climate and for last minute meetings," Çakır said.
"There was a huge responsibility on my shoulders, it was a great honour, a Turkish referee was set to officiate at the World Cup for the first time in 40 years. 
"The three of us had to train and study intensely and there is always suspense at these kind of tournaments because nobody knows what game they will officiate until 48 hours before the game." 
Çakır admitted that he was wondering if he would actually take charge of any games a few days into the World Cup.
"We waited 4-5 days and started to worry, Bahattin was wondering if we would even get a game, anyway we did get our call and it was for the Brazil-Mexico game, we could not have asked for a more high profile game it was a great experience," he said.
Çakır was named the eight best referee in the world by the the International Federation of Football History and Statistics (IFFHS).
RANKING 2014
1 – Nicola RIZZOLI (Italy) 131 points
2 – Howard WEBB (England) 78 points
3 – Felix BRYCH (Germany) 61 points
4 – Björn KUIPERS (Netherlands) 45 points
5 – Ravshan IRMATOV (Uzbekistan) 37 points
6 – Pedro PROENCA (Portugal) 34 points
7 – Carlos VELASCO CARBALLO (Spain) 16 points
8 – Cüneyt CAKIR (Türkiye) & Marco Antonio RODRIGUEZ MORENO (Mexico) 13 points
10 – Nestor Fabian PITANA (Argentina) 7 points