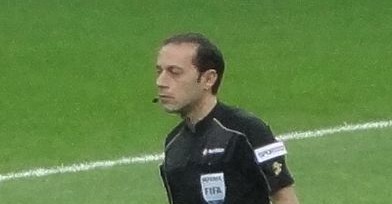 Cüneyt Çakır has received praise from the Italian press for his performance during the Bayern Munich – Roma game in the UEFA Champions League.
Italian newspaper Corriere dello Sport stated "There were only a few hard decisions to be made during the game but Çakır got them all right."
Another Italian newspaper La Gazzetta dello Sport praised Çakır's decision to book Radja Nainggolan for a dive.
"Nainggolan dived, Çakır and his assistants deserve praise for spotting and punishing it.
Çakır averages 4.11 yellow cards per game, 0.21 red cards per game and 0.27 penalties per game.
Despite criticism for being a little too card-happy the International Federation of Football History and Statistics (IFFHS) named Çakır as the fifth best referee in the world.