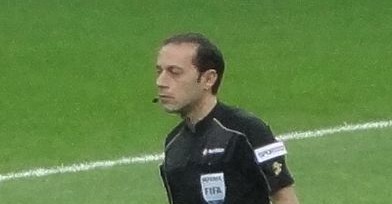 Cüneyt Çakır has been selected by UEFA to officiate the EURO 2016 qualification game between Serbia and Denmark.
The game will be played tomorrow at the Partizan stadium in Belgrade. Kick off is at 19:45 (GMT).
Bahattin Duran, Tarık Ongun, Hüseyin Göçek, Barış Şimşek and Mustafa Emre Eyisoy will assist Çakır during the game.
Çakır averages 4.11 yellow cards per game, 0.21 red cards per game and 0.27 penalties per game.
Despite criticism for being a little too card-happy the International Federation of Football History and Statistics (IFFHS) named Çakır as the fifth best referee in the world.