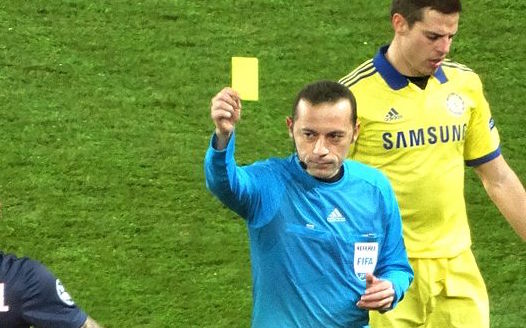 UEFA have revealed that Cüneyt Çakır will officiate the 2014-15 Champions League final in Berlin on 6 June.
The match at the Olympiastadion in Berlin. Çakir will be assisted by his fellow Turkish officials Bahattin Duran and Tarik Ongun. The fourth official will be Jonas Eriksson from Sweden, and the two additional assistant referees, Hüseyin Göcek and Barış Şimşek, are both FIFA approved.
See More
Cuneyt Cakir ranked 8th best referee in the world
Cüneyt Çakır leaves hospital
Cüneyt Çakır receives rave reviews from Italian press
Turkish reserve assistant referee Mustafa Emre Eyisoy will complete the refereeing team.
Çakır has taken charge of 70 UEFA matches including the Last 16 first leg between Paris Saint-Germain and Chelsea FC in Paris this season.
The experienced referee also recently officiated the Napoli – Wolfsburg Europa League quarter-final second leg tie at the San Paolo stadium on Thursday 23 April.
Çakır became the first Turkish referee in 40 years to officiate at a World Cup this summer, following in the footsteps of Doğan Babacan who was assigned to officiate the 1974 World Cup.
The 37-year-old is the most experienced Turkish referee at International and European level.