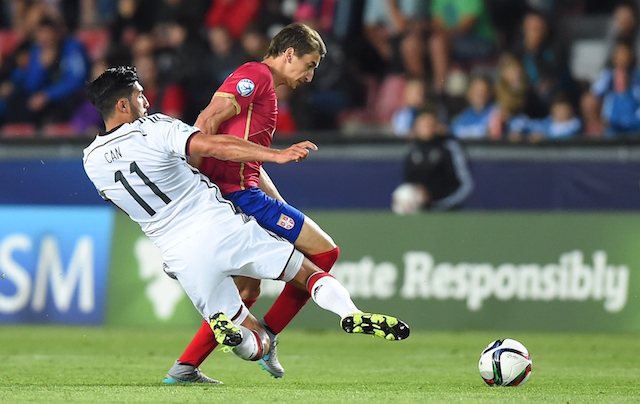 The former Germany international and Liverpool midfielder Dietmar Hamann has stated that Emre Can could prove to be vital for Joachim Low's Germany during Euro 2016.
Can was an unused substitute during Germany's 2-0 win over Ukraine on Sunday evening however, Hamann believes the versatility of Can could prove to be an important asset for Joachim Low's side.
"There is a lot of competition for places in the Germany midfield so that is why Can is used as a full-back," Hamann told Liverpoolfc.com.
"They have the likes of Toni Kroos, Sami Khedira and Bastian Schweinsteiger for the central positions so they have a lot of competition, so at this moment in time Emre is still a young player and there are better players for the position.
"If Emre does get his chance it probably will be at full-back but there are players vying for the two positions.
"The one big asset he has is his versatility, which will be a big asset for Germany. He can play in various positions and do a very good job in each one as well."
Can has featured predominantly as a defender for his country, as he did under Brendan Rodgers for Liverpool.
The 22-year-old has played as a central midfielder under Jurgen Klopp this season and has underlined on numerous occasions that it is his favourite position and where he feels he is at his best.
Can did however, play as a full-back and defender under former manager Brendan Rodgers and Low has decided to keep him on as a defensive player rarely playing him in central midfield.
The Liverpool star is one of two Germany intentional players of Turkish origin in the side – the other being Arsenal playmaker Mesut Ozil.
See More
Liverpool star Emre Can reveals details of his Turkish roots
Group D: Turkey Euro 2016 team guide