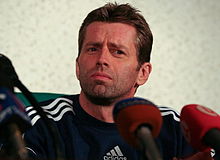 Eskişehirspor took a giant step towards league safety following a 1-0 win over Erciyesspor at the Kadir Has stadium.
EsEs moved nine points off the drop zone into 13th place on 30 points.
The Kayseri based side dropped further into the relegation zone following the defeat. Erciyesspor are now in 17th place on 20 points – eight points off league safety.
Sezgin Coşkun scored the only goal of the game on 45 minutes.
EsEs will take on league leaders Fenerbahçe at home next week, Erciyesspor will play last placed Fenerbahçe.
Erciyesspor 0-1 Eskişehirspor 
Stadium: Kadir Has Stadium
SAİ ERCİYESSPOR: Gökhan Değirmenci, Caner Osmanpaşa, Diakhate (min. 67 Edinho), Boye, Anıl Karaer, Mehmet Akgün, Mandjeck (min. 46 Drenthe), Sylla, Murat Yıldırım (min. 46 Oğulcan Çağlayan), Serdar Gürler, Vleminckx
MANAGER: Fatih Tekke
ESKİŞEHİRSPOR:Ali Şaşal Vural, Kamil Ahmet Çörekçi, Sezgin Coşkun, Mustafa Yumlu, Özgür Çek, Causic, Toko, Kaan Kaynak, Lawal, Sezer Öztürk (min. 88 Diego), Mori (min. 77 Ömer Şimanoğlu)
MANAGER: Michael Skibbe
GOALS: min. 45 Sezgin Coşkun (Eskişehirspor)