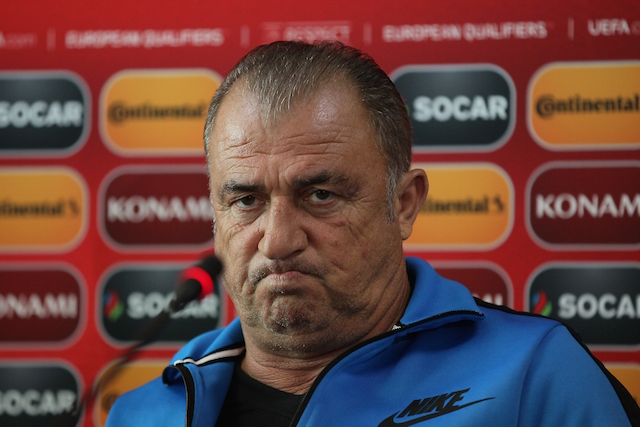 Turkey suffered a 1-0 defeat at the hands of Croatia in their opening Group D Euro 2016 game.
It was not so much the loss but the manner of defeat which riled most fans. The Crescent-Stars will have to make a marked improvement to offer Spain any kind of contest. In order to improve it is probably best to identity what went wrong first.
Here are three key factors we identified from the clash.
1. Lacked pace
The Croatia vs Turkey encounter was in theory supposed to be a midfield battle. In reality it Croatia wiped the floor with the Crescent-Stars. With Ozan Tufan effectively the only hard-working defensively minded midfielder out of the not-so-fantastic Turkish five – Tufan, Selcuk Inan, Calhanoglu, Arda Turan, Ozyakup – Croatia were given way too much space to operate.
Turkey failed to close down the opposition and when on the ball had no outlet when eventually winning back possession. Cenk Tosun was left isolated upfront, there was no pace on the flanks with Turan and Calhanoglu being played wide.
Turan in particular had a poor game. The Barcelona man rarely ventured forward and was not particularly effective defensively either. Turkey lacked pace, lacked a leader and lacked a game plan.
Fatih Terim does however, have options to inject pace into the team. Burak Yilmaz loves to make clever forward runs, Volkan Sen is a tricky winger and Emre Mor offers explosive acceleration. Turkey are unlikely to control the midfield against Spain in their next Group D game but if Terim decides to play a compact, defensive game the likes of Yilmaz and Mor could prove very important for a counter attacking style.
Whoops! Turkey's Ozan Tufan caught fixing his hair as Luka Modric scored for Croatia – https://t.co/FRUAoxE2B5 pic.twitter.com/e1tt9PZvRs

— Yahoo Sport UK (@YahooSportUK) June 12, 2016
2. Tactically outclassed 
Croatia clearly did their homework. Srna and Brozinek used Turkey's left flank as their own personal motorway bombing up and down with little resistance. Caner Erkin did his best but he was outnumbered two to one on most occasions thanks to a woeful display from Turan who decided he was not going to bother tracking back. Croatia exploited Turkey's inability to deal with aerial balls by putting in 37 crosses and hit the crossbar twice as a result.
Hoddle, Petit and Bilic have a moan about Arda Turan's poor performance. https://t.co/0t2GLCauPs

— uMAXit Football (@uMAXitFootball) June 13, 2016
3. Emre Mor is the real deal
The only bright spark for Turkey was Mor. The 18-year-old is clearly cut of a different cloth and going on talent alone he has to be considered ahead of the likes of Volkan Sen and Olcay Sahan in the pecking order. Mor offered an injection of pace, dynamism and the ability to beat defenders down the wing that Turkey lacked for most the game. Unfortunately he only had 15 minutes to work his magic but Terim must be considering putting him in at the deep end and giving the youngster a shot against Spain.
Just in case you hadn't noticed, Emre Mor is an exciting player pic.twitter.com/jm69Nmw01w

— Flavio Fusi (@FlaFu_tbol) June 14, 2016