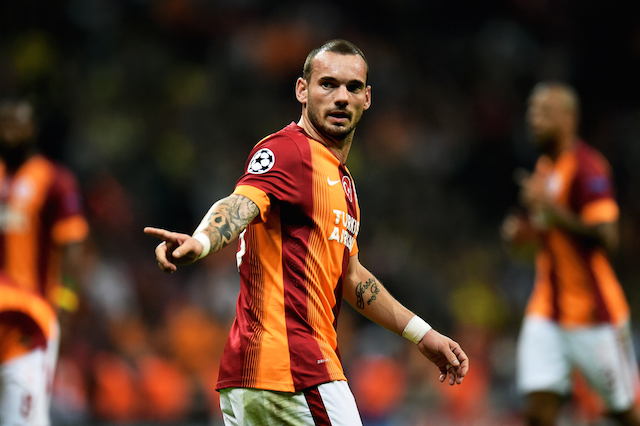 Everton's newly appointed manager Ronald Koeman has set his sights on Galatasaray's star playmaker Wesley Sneijder.
The daily Turkish newspaper AMK claim that Everton are preparing a move for the 32-year-old who has been valued at €7.5 million.
Sneijder has been linked with a move away from Galatasaray following a dispute with the clubs management. The Istanbul Giants' are also under pressure to offload star names in order to comply by UEFA financial fair play regulations.
The Turkish newspaper AMK previously claimed that Jose Mourinho has been keeping tabs on Sneijder since last season and wants to see the Netherland international at Old Trafford.
Mourinho recently revealed that Galatasaray star Wesley Sneijder was his 'perfect' number 10.
"Who is my perfect number 10? Wesley Sneijder and Deco. Because they could defend, get in the box and finish goals? Yes." Mourinho was quoted as saying in the Telegraph.
Sneijder did of course play under the stewardship of Mourinho while at Inter Milan where the duo lifted the UEFA Champions League and Serie A under the Portuguese manager.
The Netherlands has setup ten assists and scored five goals in 40 games for Galatasaray this season.